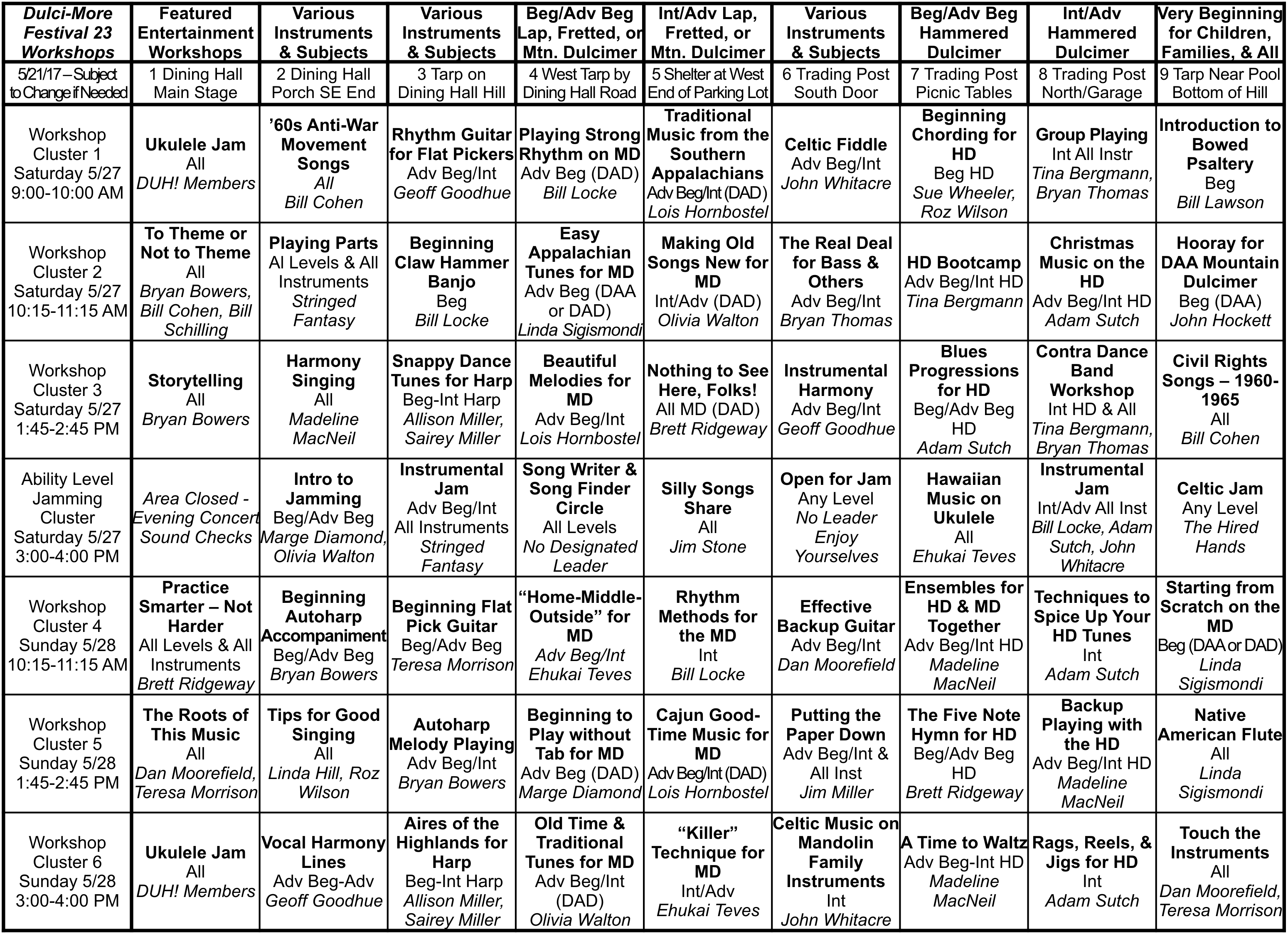 Workshop Descriptions for Dulci-More Festival 23
The middle section of this program shows the workshop grid. Use these descriptions to help find the workshops that will work best for you. Anyone can listen in on any workshops. A few workshops will have instruments for you to try out. No instruments are required for many of the workshops. Some of the workshops on the Dining Hall Stage are more for entertainment than for participation.
Saturday Workshops & Events
Cluster 1
1] Ukulele Jam
DUH! Dulci-More Ukulele Hangout members will lead and showcase many tunes from beginner level ones in C to more complicated ones (projecting lyrics and chords). Something for everyone, several loaner ukes available.
2] '60s Anti-War Movement Songs
Bill will share some songs from the 1960s and relate how the songs reflected and energized the 1960s anti-war movement.
3] Rhythm Guitar for Flat Pickers
Practice Gypsy jazz and ragtime "comping" or "chunking" accompaniment patterns. Students should be familiar with most major, minor and seven chords and be able to change fluidly between them in time.
4] Playing Strong Rhythm on MD
Bill will cover rhythmic dulcimer styles with variation, which can enhance the overall sounds of the instrument. This will include adding structure to the strum and cross picking using some common and well known tunes for this so the focus can be on the right hand.
5] Traditional Music from the Southern Appalachians for MD
This is the "native" music of the mountain dulcimer. Lois will teach some authentic, colorful Southern Appalachian pieces you may not play yet – a ballad, a hymn, a play-party song, and an old-time string band dance tune that she learned from traditional musicians at fiddle conventions.
6] Celtic Fiddle
John shows traditional styles such as drones, bowing, and ornaments, used to transform the violin and printed music to traditional fiddling. This can include features of 18th-century Scottish and English music.
7] Beginning Chording for HD
Sue & Roz will help you learn about root chords and playing in various time signatures to make interesting simple chord or arpeggio backups.
8] Group Playing
Tina and Bryan will discuss the roles of instruments and how to use them to create exciting variety in your arrangements.
9] Introduction to Bowed Psaltery
Bill will introduce the psaltery discussing psalteries, bows, and playing techniques. All will play some simple tunes. Loaners available.
Cluster 2
1] To Theme or Not to Theme
The panel will share various perspectives on set lists and the use of themes for developing set lists and programs. While one panel member has 7 themes for concerts, another hardly ever uses set lists.
2] Playing Parts
Members of Stringed Fantasy will share what they do, playing melody, harmony, and drone lines, using sheet music, written in multiple parts.
3] Beginning Clawhammer Banjo
This is not bluegrass, it is all done with a downward motion of the right hand with easy fingering on the banjo neck. Just bring a plain old fashion banjo with five strings. Try a simple tune or two with Bill, but most effort will be to get the strum right using the G banjo tuning.
4] Easy Appalachian Tunes for MD
This is a repertoire-building workshop for novice dulcimer players. Participants will be taught several songs from the Appalachian Mountain Region. Some techniques to enhance your playing will also be included Tab will be given in both DAA and DAD tuning.
5] Making Old Songs New for MD
Olivia will help players find and use various playing techniques for add life to the old songs from her repertoire and theirs.
6] The Real Deal for Bass & Others
Playing bass is about playing the right note in time, in tune, and with a pleasant THUMP. Bryan will discuss strategies and techniques for making this happen and how to "hear" chord changes. Prepare to sing and play simultaneously and talk some music theory. Other instruments are welcome.
7] HD Bootcamp
Tina will help you learn the relationships between marked courses, half steps, repeated notes, chords and scales that will unlock a deeper understanding of your instrument, help you to feel more free when learning tunes and help you get your money's worth in lessons, workshops and camps! Be prepared to say "AH HA! I never knew that!!"
8] Christmas Music on the HD
The ringing of the hammered dulcimer sounds great on so much Christmas music. Adam will work with the preference of the participants for which Christmas tunes they want to learn.
9] Hooray for DAA Mountain Dulcimer
Learn from John basic chord patterns that make this the quickest way to play 3 string chords. Go from one string to two then three string chords which have the same finger pattern up and down the fretboard. Play melody across the strings. Play along with DAD players.
Cluster 3
1] Storytelling
When Bryan takes the stage, it is clear that he grew up hearing stories and songs in Virginia. "A consummate storyteller and performer, his sets are peppered with remembrances, history, and humor. He can literally have you laughing one moment and a little teary-eyed the next." He has been a featured performer at the National Storytelling Festival in Tennessee. He will share stories and techniques.
2] Harmony Singing
Maddie will help everyone find their own voices and the way to blend those voices with others.
3] Snappy Dance Tunes for Harp
Allison and Sairey will include some great dance tunes and ideas for playing them with a snappy feel. With music taught by ear, sheet music is provided after the workshop.
4] Beautiful Melodies for MD
Lois originally fell in love with the gentle sounds of the mountain dulcimer's enchanting voice, its drones, and its harmonies. She will teach a variety of music pieces that highlight the instrument's unique charm.
5] Nothing to See Here, Folks! for MD
As we learn to play an instrument, we tend to overly rely on our eyes and essentially 'get in our own way' as we struggle to improve our playing. Throughout this unconventional (and fun!) workshop, completely blindfolded, you will learn an entirely different method of visualizing and playing your instrument strictly through tactile experiences and sensations. Via step-by-step instruction, Brett will help you explore a new approach toward playing your instrument, understand the importance of the relationship between your body and the "feel" of the instrument, change your perspective, perception, and level of awareness, and "see" your instrument solely through your fingers and hands, while strengthening your "muscle memory" and building confidence in your abilities. This workshop not only teaches you play without relying on your eyes, but will ultimately improve your capacity to play instinctively—without visual reliance that can impede your progress. You will be surprised at how we hinder our own musical potential by teaching our eyes to play rather than teaching our hands…and body!
6] Instrumental Harmony
Learn consonant instrumental harmony lines with Geoff to accompany fiddle tunes in both major and minor keys. Fiddle, mandolin and guitar players welcome. Intermediate instrumental lead playing proficiency and basic chordal theory required.
7] Blues Progressions for HD
Adam will be working with you to understand some of the basics of the blues. There will be techniques and variations to keep the blues at a good up beat tempo along with the melody and backup for hammered dulcimer.
8] Contra Dance Band Workshop
Learn the techniques to really drive a contra dance and make the dancers go WOO! Tina and Bryan will discuss choosing and pairing tunes, building up and breaking down the energy in a dance and using musical texture to create variety.
9] Civil Rights Songs – 1960-1965
Bill will sing songs with you to demonstrate how songs emboldened the non-violent civil rights demonstrators from 1960-65.
Ability Level Jamming Workshops Cluster
If one doesn't work, try another. Join the fun!
2] Intro to Jamming
Marge and Olivia will lead this jam for all instruments at a slow pace with easy tunes to help people get used to something many find scary, but is really fun - playing well with others.
3] Advanced Beginner/Intermediate Jam
Stringed Fantasy will lead some tunes and give you a chance to lead others of all kinds in a lightly structured jam for those used to playing together.
4] Song Writer & Song Finder Circle
Join others who write their own songs or find interesting songs to sing and share songs and techniques about how you do what you do. Share together nicely with no leaders assigned.
5] Silly Songs Share
Jim has some great silly songs to sing for and/or with you. The real fun comes as each of you adds your own songs for and/or with the others.
6] Open for Jam
No leaders assigned – just a location to jam for any level.
7] Hawaiian Music on Ukulele
Ehukai is from a musical Hawaiian family. He will teach some of his favorite Hawaiian songs, how to strum authentic rhythms, and will even teach you to sing a little in Hawaiian!
8] Intermediate/Advanced Jam
Bill, Adam, and John will lead some tunes and give you a chance to lead others of all kinds in a lightly structured jam for those used to playing together. The leaders play different styles, so it should be great hearing how everyone gets along.
9] Celtic Jam
Join the Hired Hands for an all-level Celtic jam.
1] Name that Old-Time (or Other) Tune
This version of a slick television game show is for the enjoyment of all after a full day of workshops. Get in on the fun and prizes from Alice as Linda and Marge again supply the tunes and Bill hosts.
1] Open Stage/Clubs Open Stage
Sign up at the registration area to let our festival hear some of your unique sounds. All acoustic instruments and styles are welcome.
Sunday Workshops & Events
1] Hymn/Gospel/Spiritual Sing
Join a group with your instruments or just your voice to share many favorites. Lyric sheets and/or projected music for many old favorites will be there, but others may also be sung.
Cluster 4
1] Practice Smarter – Not Harder
Practice doesn't necessarily make perfect. Knowing HOW to practice does. You can spend hours and hours of mind-numbing repetition, or you can learn to practice -- SMARTER, FASTER, BETTER, MORE THOROUGHLY....Learn HOW TO LEARN. The secret to playing successfully is NOT just practicing, but knowing HOW to practice! Many people waste HOURS of time and effort practicing their instrument, and don't realize their practice methods are like a brick wall keeping them from reaching the end-result they desire. If you're going to spend time practicing, why not make sure you're doing it right in the first place?
This workshop will teach you scientifically proven techniques, tested guidelines, and provide hands-on practice learning a tune teaching you exactly HOW to practice for the most efficient, effective, and productive results!
2] Beginning Autoharp Accompaniment
Bryan will work on autoharp basics such as finding and playing chords, strumming patterns, and playing by ear. A few autoharps are available for loan.
3] Beginning Flat Pick Guitar
We will learn to flat pick a simple lead by ear and back it up with chords while discussing good technique. Teresa suggests bringing a recording device.
4] "Home-Middle-Outside" for MD
This class works for both newer players who know what a chord is and more experienced players who like to play with other instruments or want to find new keys for their vocal range. Learning Ehukai's new system of playing chords in DAD tuning, which he calls "Home-Middle-Outside," you'll be able to play the I, IV and V chords in the keys of D, E, G, A, B, C (and a bit beyond) – in a very accessible way without having to look at your hands or use a capo.
5] Rhythm Methods for MD
Bill gets the player to be able to play a structured strum adapted to have a "bum-a-ching-a" old-time style for fiddle or blues tunes. We will play both forward and back on the strings with a flat pick. This is similar to the effect obtained with some finger picking styles. Emphasis is placed on being able to obtain a lilting sound. Bill will pick an easy tune and play it with varying and successively more complex strums. The idea is to get the student to get a "free and easy" right hand style which can vary as a tune goes along.
6] Effective Backup Guitar
Dan will help all levels of guitar players learn to be more effective backup players.
7] Ensembles for HD & MD Together
Maddie will share 2 (or more) part arrangements for HD and MD players fo play TOGETHER.
8] Techniques to Spice Up Your HD Tunes
Adam will work with you on several techniques to help take your playing to another level as you incorporate them into your own playing style.
9] Starting from Scratch on the MD
This is a workshop for the very beginner. Participants will be shown how to tune the mountain dulcimer, how to find notes, and how to strum. Participants will also learn how to play several easy melodies. (DAD and/or DAA tuning)
Cluster 5
1] The Heritage of This Music
This will not be hands on but it will be open to discussion as we tell about the Scotts/Irish migration to the US and the roots of our Appalachian music.
2] Tips for Good Singing
Linda and Roz will help you enjoy singing more with improved breathing, pronunciation, listening, and harmony.
3] Autoharp Melody Playing
Bryan will discuss and demonstrate how he plays the melody on autoharp while incorporating some backup and/or harmony concentrating on techniques for both left and right hands.
4] Beginning to Play without Tab for MD
Marge will help those who are paper-trained take the first steps to freeing themselves from the tab and sheet music and being able to just play.
5] Cajun Good-Time Music for MD
Lois will show you how to authentically "Laissez les bon temps rouler" playing spirited Cajun dance tunes from Louisiana. (The Cajun accordion, main instrument for this music, has a diatonic scale like the mountain dulcimer does, so the music's easy and natural on our instrument!)
6] Putting the Paper Down
When using sheet music or tab, it's easy to get locked into one version of a tune. Your tunebook grows and grows. Jim will have music and tab for some tunes and will work through some techniques for tune learning. You will find as you learn a tune it becomes easier to play in a jam with other versions of the same tune focusing more on playing your instrument and making music.
7] The 5-Note Hymn for HD
This is NOT a "tune" workshop. We will learn the simple melody line to a traditional hymn consisting of just the use of five notes making it EASY to learn and memorize. We will then learn how to make and use chords, arpeggios, and embellishment techniques to turn it into a beautiful performance ready piece.
8] Backup Playing with the HD
Melodies are usually played on the hammered dulcimer, but the beautiful resonating notes can create wonderful harmonies. Maddie will work with you on chords and harmony ideas, concentrating on range, and while staying in the background, accenting melodies sung or played by other instruments.
9] Native American Flute
Linda will tell a legend of the Native American flute and demonstrate how to play the instrument for traditional and western music. A few flutes will be available for participants to try or purchase. If you have your own flute, bring it along.
Cluster 6
1] Ukelele Jam
See Cluster 1 Area 1 for description.
2] Vocal Harmony Lines
Practice writing vocal harmony lines with Geoff to accompany your favorite melodies with the goal of building three part harmony arrangements to sing together. Find your range and work within it. Practice supporting the melody but not competing with it by refining pitch, phrasing, dynamic accuracy, and sensitivity. Participants should already have a strong melodic sense and singing ability.
3] Aires of the Highlands for Harp
Allison and Sairey will teach some Highland tunes. With music taught by ear, sheet music is provided after the workshop.
4] Old Time & Traditional Tunes for MD
These are the songs that most people associate with the mountain dulcimer. Learn some with Olivia.
5] "Killer" Technique for MD
Add life to your playing with riffs and licks used by professionals and add spice to your playing. Includes tips on economy of movement and finding chord inversions and harmonies you may never have tried before!
6] Celtic Music on Mandolin Family Instruments
Students learn how to use techniques such as drones, picking, and ornaments to create a Celtic sound. This can include an emphasis on the music of Turlough O'Carolan and the 18th century. John will work with mandolins, mandolas, and octave mandolins.
7] A Time to Waltz for HD
Maddie will present 2-3 waltzes (who knows from where) in this repertoire building workshop.
8] Rags, Reels, and Jigs for HD
Adam will work with you on the rhythmic patterns used in these fun types of tunes and get you playing some specific tunes in the genres.
9] Touch the Instruments
Dan and Teresa will demonstrate and help children and adults try out some of the instruments we bring and answer questions. We can have on hand banjo, guitar, fiddle, mountain dulcimer, hammered dulcimer, and mandolin.
3] Worship Service
Doug George, pastor of the First United Methodist Church of Salem, will lead a short service and share a message that should be meaningful for all.
1] Open Stage/Clubs Open Stage
See Saturday Open Stage for description.