This information is now current for Dulci-More Festival 22 in 2016
Dulci-More Festival 22
Concert, Mini-Concert, Workshop Presenters & Vendors
Note: Clicking on most of the photos on this page will open them in a new window in a higher resolution more appropriate for use in press releases. However, we do not have higher resolution photos of all of the artists, but there should be something appropriate for most press releases here.
For Festival downloads, schedule, workshop grid, and registration, go to the main Dulci-More Festival page.
Link to Online Registration Page
(Online registration page will be taken offline around on Wednesday, May 25 to allow final preregistration information to be coordinated by the registrar)
Updated May 20, 2016
(Some Presenters Will Only Be at the Festival One Day As Indicated in the Schedule)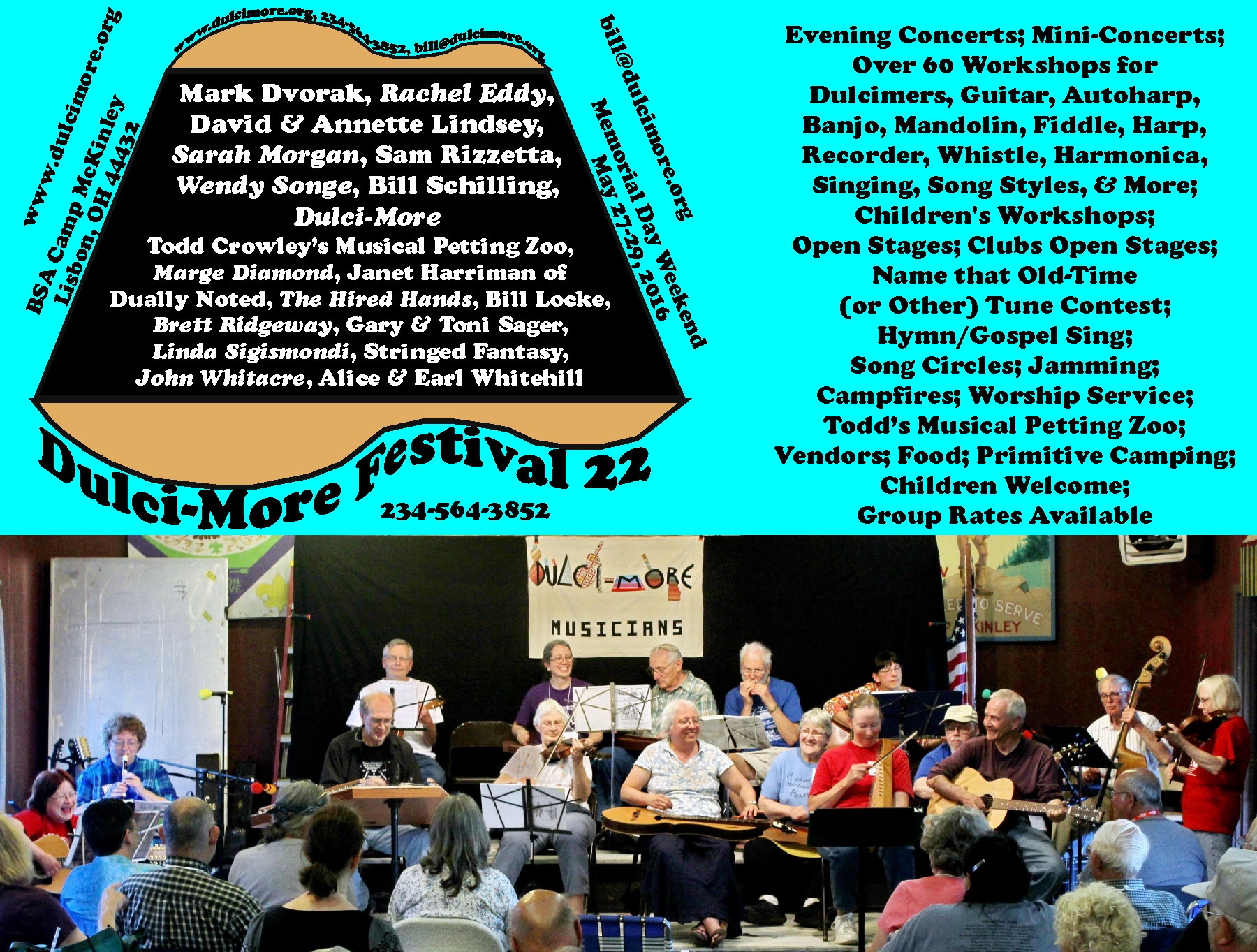 Concert, Mini-Concert, & Workshop Presenters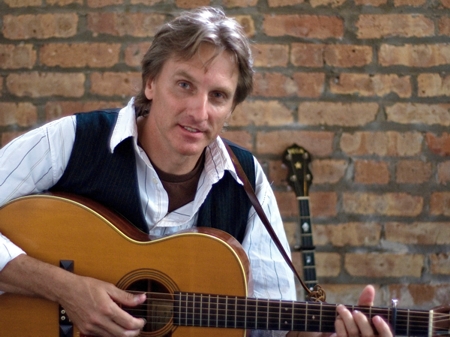 Mark Dvorak is a modern day troubadour who has never stopped performing, writing, and recording. He has been called "a folk singer's folk singer" with an "encyclopedic knowledge of traditional songs." His song writing has been called "wondrous" and "profound."
Since 1981, Mark has performed in nearly all the United States, and has visited several countries in Europe. Though he often appears on festival stages and in theaters, he is also at home in a more intimate setting.
His concerts are a mix of the familiar and the new, traditional folk, and standards from the American songbook. He plays authentic country blues guitar and picks great old-time banjo. Mark enjoys involving his audiences in sing-along songs, just like The Weavers used to do, and he mixes in his own well-crafted and often poignant originals.
Mark has a refreshing, down-to-earth stage presence, and is a very engaging performer. He likes to joke around with the folks who attend his shows and throughout the program he'll interject personal anecdotes and add a touch of history or social context.
His roots are in Chicago, but for more than twenty-five years he has been crisscrossing the country, performing, teaching, and learning all the while. He's visited big cities where his concerts and recordings have been hailed as, "a refreshing portrait of the living folk tradition," and he's traveled many a back road to some little town or out-of-the-way place where the sounds and songs of the American experience seem more deeply rooted; here his performance comes across like a friendly conversation with neighbors.
Dvorak continues to be an integral member of the faculty at Chicago's venerable Old Town School of Folk Music. When he's not on the road, you can find him there teaching, jamming with students and passers by, or just hanging out and soaking in the vibe.
Since 1986, thousands of music students have passed through his classes. He has helped many a beginner get through their first chords and strums, and has hosted a catalogue of master classes and workshops on a range of subjects from old time banjo picking to the legacy of the great Lead Belly, to just about every other topic related to the study of the American folk song.
Mark was with us for Dulci-More Festival 8, and we are very pleased finally to have him back again.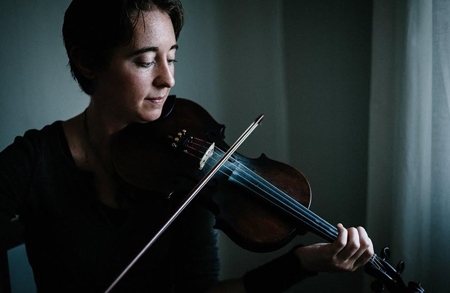 Rachel Eddy was born and raised in rural WV near Morgantown, where her father got her started playing fiddle as a little girl. Pretty soon she realized that it was more fun making old time string band music than just about anything else, which she has done pretty much full time since. Rachel performs on fiddle, banjo, guitar, mandolin, and bass, as well as singing and telling stories, throughout the eastern U.S. and Europe. She has recently relocated back to West Virginia after living the last 5 years in Stockholm, during which time she invigorated the Swedish old-time scene inspiring dozens of people with Appalachian music and dance.
Rachel has taught fiddle, banjo and guitar at the Augusta Heritage Center in Elkins WV, at Sore Fingers Summer school in the UK, and different various weekend workshops from the hills of West Virginia to Sweden, Denmark, Switzerland, Germany, London, and Wales. From the connection of working with a dedicated student to performing solo in front of small audiences, and the collective charge of leading large jam sessions or tight ensembles in front of thousands of festival goers, Rachel's love for traditional music comes from the heart! Over the years, she has had the honor of sharing stages, workshops, and recording sessions with the likes of Tim O'Brien, Erynn Marshall, Dirk Powell, Adam Hurt, Rayna Gellert, Russ Barenberg, Bruce Molsky, Mark Schatz, and a month long tour in Germany with the g'earls from Uncle Earl.
She has four full length albums : The Morgantown Rounders (2006), Hand on the Plow (2008 solo), Chilly Winds (2010 duo with Kristian Herner), and Nothin' But Corn (2014 solo). Rachel's most recent news is that she's teaching Appalachian music and dance at West Virginia University, and has just picked up by the University's record label, Mon Hills Records. Look for a new Rachel Eddy solo album out by spring 2016!
Rachel is now living in the Washington, D.C. area. This is her first Dulci-More Festival.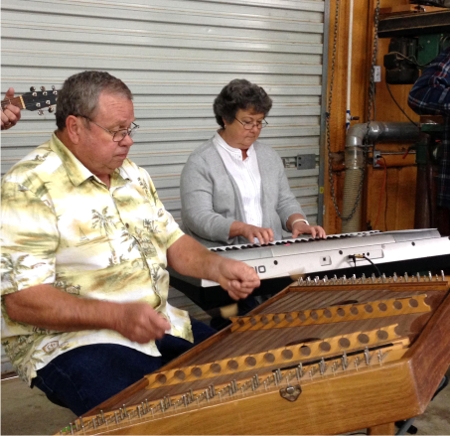 David and Annette love to travel throughout the United States performing, instructing, and selling David' Dulcimers. They are privileged at times to get perform with their daughters, Angie and Cara. Cara is continuing David's love for playing the hammer dulcimer as well as learning the trade of making them. She has been working with David in the shop and building dulcimers with him since 2004. The family enjoys playing and singing old-time and gospel songs, and all are very involved in the Red River Valley Dulcimer Club and sponsoring Winter Creek Reunion, held every year in October at the home of David's Dulcimer in Bennington, Oklahoma. Their favorite thing to do is help others find the love for the music that changed their lives so completely that day back in 1978. 
David Lindsey first discovered the hammer dulcimer in June of 1978 while vacationing at Silver Dollar City, Missouri. Later that summer he bought a dulcimer kit, put it together, and taught himself to play. Right away David realized he was looking for a different sound than the kit, so in November of that year he built his first dulcimer from scratch.
Meanwhile, David's wife, Annette, became interested in the mountain dulcimer when visiting Mt. View, Arkansas, when she and David discovered the Ozark Folk Center in April of 1979. After purchasing a mountain dulcimer, David and Annette helped found the Sweet Song String Band, a group that is still active today. In addition to the mountain dulcimer, Annette often provides strong rhythmic keyboard accompaniment for David's hammer dulcimer and other groups and jams.
While playing in those early days, audience members began to ask where they could purchase a hammer dulcimer, and join the growing community of players for themselves. Once they learned that David had built his own dulcimer, he was asked to make dulcimers for them, and David's Dulcimers was born.
Many of our festival attendees will know them from several recent years at Coshocton Dulcimer Days. This is their first Dulci-More Festival.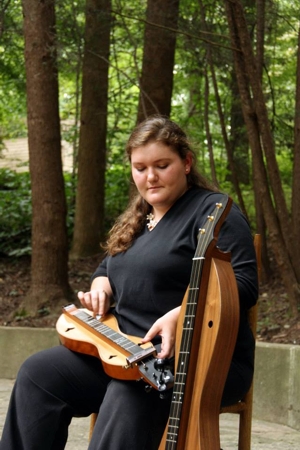 The music of Sarah Morgan embodies her respect and joy of folk music and her creative approach to arranging. Backing traditional Appalachian melodies and haunting old time tunes with fresh harmonies and a progressive drive, she lends a new feel to seemingly "old" tunes, while accompanying pure and heartfelt vocals with the unpretentious sound of the Appalachian dulcimer. Folk, Americana, and Old-Time roots are brought to the forefront at live shows, where only Sarah and her dulcimer can be found behind the microphone, creating a subtle yet powerful sound that brings the relevant music of the past to today's audience.
Sarah Morgan started her musical journey at 7 years old and has fallen in love with traditional and folk music through the years. A native of East Tennessee, Sarah has incorporated the rich musical heritage of the area into her music. At 18, Sarah placed 1st at the 2012 National Mountain Dulcimer Championships held in Winfield, KS. A year later she went on to become a finalist in the 2013 International Acoustic Music Awards. She has also won other titles, including Mid-Eastern Region Mountain Dulcimer Champion, Kentucky State Mountain Dulcimer Champion, and Southern Region Mountain Dulcimer Champion.
This is Sarah's first Dulci-More Festival.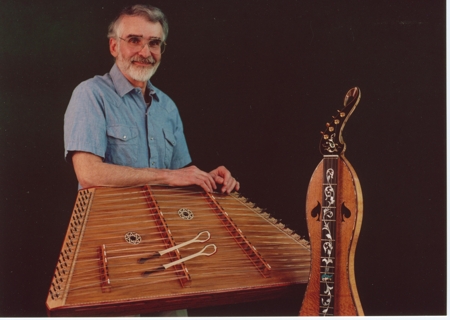 Over the years Sam Rizzetta's performances, recordings, and craftsmanship have introduced many people to both hammer dulcimer and fretted or "Appalachian" mountain dulcimer, and his joyful and versatile music leave good feelings wherever he plays. Sam's playing has been heard at numerous festivals as well as at the National Cathedral, the Kennedy Center, on National Public Radio's A Prairie Home Companion and Mountain Stage, and on public television. And his many design innovations have helped to define the contemporary hammer dulcimer.
Onstage, the tone of Sam's dulcimers combine with his heartfelt and ornamented playing style for music that has been called "resonantly sensual magic." Reviewers say his music defies attempts at categorization. A Rizzetta concert may blend classical, folk, gospel, new age, oldtime tunes, ragtime, original music, and other surprises. Of his performance, the National Dulcimer Symposium Journal says, "Sam Rizzetta was just plain awe inspiring! We were privileged to be watching a master player in peak form." Frets Magazine wrote, "He builds instruments of awesome power and puts them to good use." "Probably the best dulcimer I've heard," says West Virginia's Tamarack Center. The New York Times concurs; "songs and reels played with lively charm. …delightful."
In 1975 Sam created the influential group Trapezoid as a hammer dulcimer quartet, and they made some highly acclaimed, landmark recordings. Since 1978 Sam has performed solo, made 13 solo recordings, and written four books of original music for dulcimer.
Sam has designed and handcrafted musical instruments since childhood, and his dulcimers have long been prized by musicians. Rizzetta dulcimers have been exhibited at the Smithsonian Institution and the National Folk Festival and featured in Fine Woodworking Magazine. Starting in 1974, Sam taught for many years at the Augusta Heritage Center and was coordinator for dulcimer programs. He has been featured at countless festivals and workshops, and for many years he wrote the Technical Column for the Dulcimer Players News. Sam designs dulcimers for the Dusty Strings Company, and, along with friend and collaborator Nicholas Blanton, continues to build custom and experimental instruments. Many of Sam's design innovations have become essential to the modern dulcimer and are enjoyed by almost all of today's players, performers, and builders. He is a pioneer in the use of carbon composite technology for musical instruments.
Sam has been nominated for a National Endowment for the Arts National Heritage Fellowship for lifetime achievement in the arts.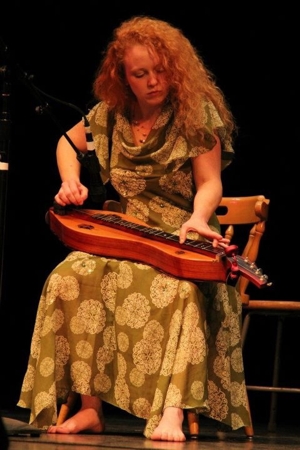 Born in North Carolina, raised in Oklahoma, and with roots stretching from Louisiana to Canada, and Scotland to the Native Americans, Wendy Songe weaves an eclectic tapestry of diverse instruments, cultures, and songs from across the globe.
Classically trained in piano from the age of five, Wendy's firm foundation in music has paved her way to a myriad of other instruments, including guitar, ukulele, mountain dulcimer, djembe, bodhran, celtic whistle, and more. Her songwriting, poetry, vocal, and instrumental proficiency have earned her multiple state, regional, and national awards. Wendy continues to promote music education, teaching private, group, and online lessons to students of every age and experience level.
A self-proclaimed musical gypsy, Wendy Songe tours extensively, sharing her music with audiences and students everywhere. Her music has been featured on radio, television, and at some of the finest music festivals in the United States. Wendy has also collaborated on multiple CD's, including the 2014 release, In Full Bloom with The Vintage Wildflowers, the 2012 Celtic Christmas Showdown with Jonathan Dowell, and the 2011 RV Project, with Bing Futch. Her concerts span the gap between intimate house concerts, country barn dances, rooftop luau's, formal wine tastings, spiritual retreats, community festivals, corporate parties, social outreach, awards ceremonies, music halls of fame, and more!
Wendy Songe has just completed production on her newest CD release ~ TEST DRIVE ~ produced by Bing Futch. This newest addition to her musical collection is available November 1, 2015 and is available for purchase!
Bill Schilling is a high-energy folk-style singer and multi-instrumentalist who believes that this type of music should be inclusive. He is the founder and leader of Dulci-More and the Dulci-More Festival and a member of many other groups, which share or support the music. At Dulci-More Festivals, he has performed solo and as Bill Schilling with Carol Ellis; Bill Schilling, Linda Sigismondi, and Marge Diamond; Bill Schilling & Folks; Threes Co.; Whistler's Lane; and presented his Schilling's Slides, Songs, & Stories program. Bill has put together the music that Dulci-More uses and has it available in several volumes and formats: Dulci-More Public Domain Songbooks -- Volumes 1, 2, 3, Christmas Volume (all with numbers for lap dulcimer melody strings as well as music, chords, and lyrics), Autoharp Volume (with melody chord numbers in place of the dulcimer numbers), General Volume (with DAA Numbers) which is the full size version of the four smaller volumes plus much more material, Lyrics with Chords for those who prefer not to have the written music, but want to play along, and Lyrics Only for those who just want to sing along. The full size version is over 300 pages with over 300 songs. Bill has released a CD, Songs from Canal Days, with Linda Sigismondi and continues to threaten to release more recordings upon the world. Since 2005 with Dulci-More members Marcy and Dale Tudor, he has been the Music Coordinator and a regular instructor for Folk Music at Weatherbury Farm, the Tudor's award winning farm vacation bed and breakfast in Avella, PA. Bill has also been an instructor at John C. Campbell Folk School.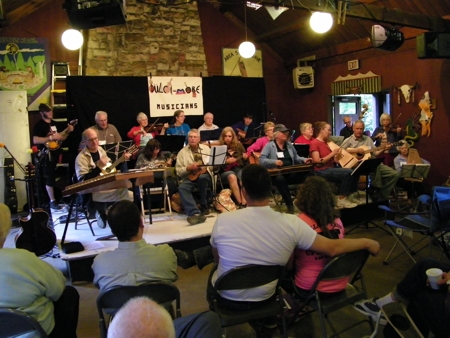 Dulci-More: Folk & Traditional Musicians is a club that started in January 1993, at the First United Methodist Church of Salem. The purposes of the club are to have fun with folk-style music and to share that music with others. The club meets at 7:00 pm on the first Tuesday and Third Tuesday (note: it was the third Wednesday until January, 2000) of each month just off the sanctuary in the Unity Classroom of the First United Methodist Church of Salem, 244 South Broadway, Salem, OH 44460. All levels of acoustic instrumentalists and singers are always welcome at the meetings to jam, to learn, to listen, or to perform. Call ahead if you are coming from far away since performances or special meetings may be scheduled a few times a year on regular meeting nights. Since October of 2014, Dulci-More also has DUH! Dulci-More Ukulele Hangout. DUH! meets on the second Tuesday at 7:00 PM and the fourth Tuesday at 2:00 PM at the First United Methodist Church of Salem. Playing all styles of ukes, they sing along on a wide variety of songs and styles. They also welcome all levels of players and singers, and they have loaner ukes available at meetings.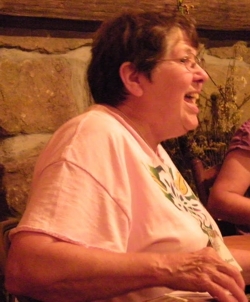 I, Marge Diamond began playing dulcimer twenty-eight years ago. Without any musical background, but with tons of enthusiasm, I passed through the beginner stage. Progress was slow and quite painful at times, but persistence began to pay off. By attending dulcimer workshops when ever possible and hanging out with other musicians I began to pick up some technique, learned to keep a fairly good beat, and began making a few fiddle tunes my own.
Learning to play was an amazing thing for me, but then there are the fantastic people I have met along with the tunes. I just would never have believed that adults could come together to share music and have so much fun. There is nothing to compare. For twenty-seven years I have been doing this, and it still feels new and fresh. I am still learning. There is love shared with the learning of the music.
Currently Marge plays with The Oberlin Dulcimer Group and Dulci-More. Marge has performed and taught Dulcimer workshops since 1987. She has been on hand teaching and performing at all of the Dulci-More festivals, at most of the Fort New Salem Festivals, at several of the Kent State Folk Festivals, and has been on hand for some of the COFF festivals. Since retirement in 2003 Marge has been pursuing her love of making art. With her business, Winsome Expressions, she makes airbrushed music themed shirts, "Ultimate Totes", and other items for sale. Marge has one recording, Beyond Cabbage. which has occasionally been available on CD.
Todd Crowley's Musical Petting Zoo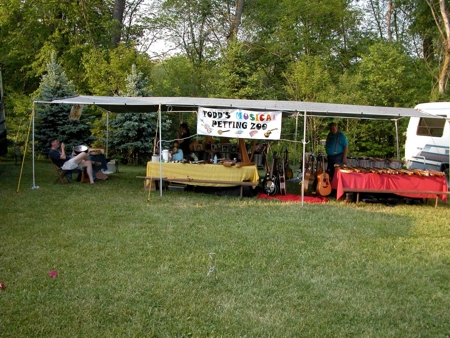 For more than a decade, Todd Crowley's Musical Petting Zoo has been involved in the folk and bluegrass festival circuit in the United States and Canada. It has appeared at close to 100 festivals and community events from Washington D.C. to Vancouver, British Columbia. The Great Hudson River Revival, Mariposa, Summerfolk, Common Ground on the Hill, Old Songs, the Ogden Music Festival, Podunk Bluegrass, Winnipeg, Albuquerque, Ottawa and Washington Folk Festivals–these are just some of the many festivals where Todd's Musical Petting Zoo has given countless children and grown-ups a like a chance to explore the vast world of folk instruments.
Todd Crowley is a member of the Folk Alliance International. Todd's Musical Petting Zoo has also appeared at the Folk Alliance Conference on several occasions in both Memphis and Toronto.
Besides being a touring exhibit during the festival season, Todd's Musical Petting Zoo is also a community center and resource for promoting folk music and teaching. It resides at 216 Maple Avenue, Corry, PA 16407 where it hosts a weekly song circle and occasional house and community concerts.
Representing the musical alphabet from accordion to zither, Todd's Musical Petting Zoo is a fully interactive, hands-on activity. Not only are festival-goers invited to examine the instruments, they are encouraged to touch, play, and share what they discover. All ages are welcome—from a child learning how to hold a fiddle for the first time to the old gentleman remembering Irish button accordion tunes.
The Zoo offers the usual instruments like the guitar, banjo, ukulele, mandolin, and fiddle. But there are also a host of other folk instruments such as the kantele, cuatro, bouzouki, and dobro. Dulcimers, autoharps, and odd musical gizmos like saws and limberjacks also abound along with drums from five continents. And too many wind and percussive instruments to name.
This spirit of discovery is the inspiration of the zookeeper —Todd Crowley is a patient, caring man with a true love for folk music. "My belief about folk music is that it isn't just music to listen to from a seat in the audience. Folk music is about making music of our own—on all levels—and then passing it on to the next generation."
"The instruments have a common DNA," says Crowley, "just like human beings." From a mouth bow to a Celtic harp, from an Andean charango to a Hawaiian ukulele, Todd's Musical Petting Zoo is a vivid and tangible display that instruments, like people, are all interconnected.
Crowley believes a folk instrument is part of the folk tradition, where the sharing of one's love and knowledge of the music, song and stories of the past help to keep the traditions alive. The instruments in the zoo tell a story of their own each time a child connects to the folk tradition by trying an instrument for the first time or an adult rediscovers the joy of making music.
Todd and his Musical Petting Zoo have been with us for Dulci-More Festivals 15 and 19 previously.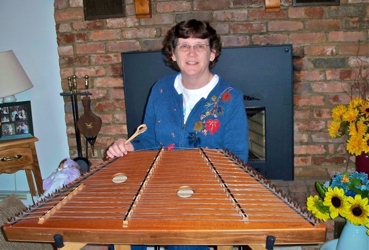 Janet Harriman is a Dulci-More member who moved from Alliance, OH to North Chili, NY several years ago. On her own as a Dulci-More member and as a member of Humours 'n Hammers, she has been presenting hammered dulcimer workshops at Dulci-More Festivals for several years. Beyond the hammered dulcimer, she has also regularly played flute with Dulci-More and with Humours 'n Hammers.
Janet has always loved music, and began her journey into its beauty and intricacies as a young child, as there was always music around her in the home. Sixth grade found her beginning flute in school, and from that she taught herself to play piano. High school and college furthered her skills. Since that time she has played piano for church singing, choirs, solos, and small groups. She has participated in community bands and orchestras, as well as small folk music groups. She has taught music in schools, and learned to play many instruments. It was in 2002 that she first heard the Hammered Dulcimer, and it was "Love at First Hammer!"
She currently writes and arranges music, as well as performs it, and teaches music, piano, music theory classes, and workshops at festivals. She has written a book of hymn arrangements for Hammered Dulcimer, as well as a book of original tunes. Her latest endeavor has been a book on Music Theory for Hammered Dulcimer players. She currently plays in "Striking Strings" out of the Eastman Community Music School in Rochester, NY, (currently her home town) with Mitzie Collins as director. Janet also plays with her daughter, Jessica Austin, as Dually Noted. Janet's articles on hammered dulcimer have regularly appeared in Dulcimer Players News. She has presented workshops and done mini-concerts for Dulci-More Festivals 11-14, 16, 17, and 19-21.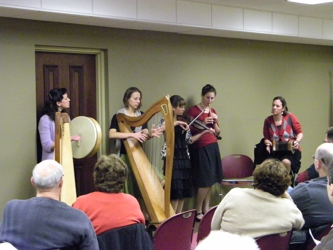 The Hired Hands are a very local group for our festival (living about a mile from the festival site) and have attended some workshops at the festival in the past as well as a couple of Dulci-More meetings over the years. Their preference is for Scottish music (with some Irish and other Celtic music mixed in). Dulci-More Festival 15 was the first time that some of the group members gave workshops at a festival, and they were back for Dulci-More Festival 16, 17, 18 (featured in an evening concert that year), 19, 20, and 21. They also played for the Dulci-More Concert series in December of 2012. They are returning for Dulci-More Festival 22. These sisters from the Miller family include:
Allison Miller began her musical career at age three with Suzuki piano lessons under the tutelage of Carol Wunderle and although she continued to play piano for the next thirteen years, she picked up the harp at age fourteen and began to explore the traditional music scene. She attended workshops at the Ohio Scottish Arts School and, after completing an undergraduate degree in biology, had the opportunity to pursue post-graduate studies in Clarsarch (Scottish small harp) and Scot's Song at the Royal Scottish Academy of Music and Drama in Glasgow, Scotland. Allison taught with the Comhaltas coinin Erin group in Scotland, has taught both privately and publicly in America, and has appeared in concert in Scotland, Canada, and at multiple venues in the States. She and Sairey play as a duo, "The Hired Hands,' and they released their first CD, Something, in the spring of 2009. She has her Doctorate in Physical Therapy and hopes to bring both good tunes and ergonomic playing techniques to the field. She has competed extensively and has been awarded the title of National Scottish Harp Champion of America after winning the 2012 National Scottish Harp Competition.
Sairey Miller has studied the Suzuki piano method under Mary Louise Foster for ten years, and discovered her love of traditional music when she began to play harp at age eight. She has taken workshops at the Ohio Scottish Arts School, at the 2007 Edinburgh International Harp Festival in Edinburgh, Scotland, and has had the privilege of studying under such diverse musicians as Sue Richards, Ann Heymann, and Sharon Knowles of the US, Wendy Steward, Catriona McKay, and William Jackson of Scotland, and Robin Huw Bowen of Wales. She has completed two Bachelor's Degrees in Biology and Philosophy and is currently pursuing Graduate School as a Physician Assistant. Sairey was awarded the title of National Scottish Harp Champion of America after winning the 2008 National Scottish Harp Competition.
Laura Miller has studied the Suzuki piano method under Mary Louis Foster since age six, and picked up the violin at age 10. She attended the Ohio Scottish Arts School and was duly converted to the realm of traditional music -- she now plays only Scottish, Irish, Quebecois, and Welsh fiddle tunes. Since 2005, she has studied under fiddle masters Andre Brunet of Quebec, Anna Wendy Stevenson and Mike Vass of Scotland, and Ed Pearlman of Maine, and she has competed at the Ohio Scottish Games, the Ligonier Highland Games in Pennsylvania, and also at the 2010 National Fiddle Competition in Virginia. She is currently playing with small folk groups and enjoying the college music scene where she is studying Liberal Arts at Wyoming Catholic College in Lander, Wyoming.
Micah Miller has studied the Suzuki piano method under Mary Louis Foster for the past nine years and picked up the Anglo concertina in 2005. With the concertina she is mainly self-taught, learning tunes by listening to CDs and playing with her sisters. In addition, however, she has had the chance to take workshops with brilliant concertina players such as Grainne Hambly, Caroline Keene, and Frank Edgley. The lighthearted tone of her concertina may be heard on several tracks on the family CD and she often joins her sisters onstage. She plays many local gigs and sessions, most recently being involved in a musical recording project for Christendom College in Front Royal, VA, where she is currently studying.
Maggie Miller began playing the piano at age 6 and found her niche in the traditional music scene when she picked up the tin whistle two years ago. She enjoys performing with the family band and has attended tin whistle workshops at the Celtic Roots Festival in Goderich, Ontario. Depending upon the tune, Maggie will pull out a multitude of smaller penny whistles, the Irish low whistle, piano, or percussion...so listen out for some amazing diversity of tones during the program!
Since they are coming from their current locations all around the country, we may not know how many of them will be with us until shortly before the festival.
Bill Locke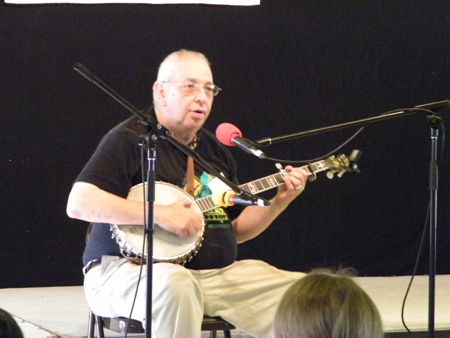 For over fifty years Bill Locke has been entertaining audiences with his music which includes old-time dulcimer, guitar, and banjo, as well as ragtime guitar and spirituals. Bill grew up in the New England area and played in several clubs around Boston, New Hampshire, and Maine. Bill joined the United States Navy and served for 26 years. He then moved to the Pittsburgh area resuming his music and performing in South Western PA and in Wheeling WV. Recently Bill is most readily found at old-time and dulcimer festivals. He has played the open stage at Dulci-More for five years (once with his wife, Judy). Bill has a distinctive banjo style learned from people of West Virginia and others that have learned from them. Dulci-More Festival 21 was his first time giving a mini-concert and leading workshops for us, and he is back again.
Brett Ridgeway's philosophy is that "anyone can make music, regardless of age, musical ability or knowledge!" Brett teaches several workshops throughout the tri-state area and is a full-time musician/instructor. He currently teaches hammered dulcimer, mountain dulcimer, bluegrass banjo, clawhammer banjo, beginner acoustic guitar and mandolin. He currently has a lesson series available on YouTube and also teaches lessons via Skype and FaceTime. He has been a featured teacher and performer at the Roscoe Village "Dulcimer Days Festival" in Coshocton, Ohio and was one of the founders of the revamped "Coshocton Dulcimer Festival". He is a third year teacher at the Pocono Dulcimer Winterfest in Stroudsburg, PA and an advanced instructor at the Buckeye Dulcimer Festival in Ashley, Ohio. He will be teaching this fall at the Nutmeg Dulcimer Festival in Milford, Connecticut. He has also hosted several self-sponsored workshops. His most recent in Tampa, Florida with 37 attendees, one participant drove all the way from Texas for the three-hour workshop! Known from online teaching, one student drove from Miami, Florida to one of his workshops held in south-western Pennsylvania. Brett tours promoting traditional American music as "Homestead Creek". He has released a total of nine recordings; of which five are currently available. Additionally, an original composition written and performed by Brett Ridgeway is featured in the soundtrack of "The Path of the Wind", a 2010 movie which features Wilford Brimley. This is Brett's first Dulci-More Festival.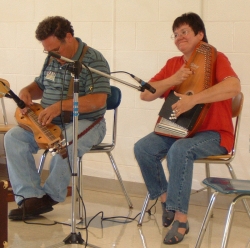 Gary & Toni Sager are from Waverly, Ohio. They performed and did workshops for us at Dulci-More Festivals 12-21, as well as vending with Prussia Valley Dulcimers Acoustic Music Shop and are back again to do all of those things for Dulci-More Festival 22. Gary became interested in the Mountain Dulcimer in 1991 after seeing David Schnaufer's "Fischer's Hornpipe" video on CMT. He built a dulcimer in late 1991, then began building seriously in 1992 and has been building and playing since that time. Gary has taught playing workshops at Fort New Salem Dulcimer Festival, Dulcimer Doin's in Dayton, Ohio, Buckeye Dulcimer Festival in Ashley, Ohio, The Great River Road Dulcimer Festival in Grafton, IL, Yellowbanks Dulcimer Festival in Owensboro, KY, Chestnut Ridge Dulcimer Festival in Greensburg, PA and several other local festivals. Gary and Toni have done occasional performances at some of these festivals. Their CD is Rats in the Fence Corner. Gary can be heard on Doug Felt's A Little of This & A Little of That CD.
Toni has been playing the autoharp for about ten years, after getting an Oscar Schmidt as a Christmas present. She had seen a lady playing one at the Fraley Mountain Music Festival at Carter Caves State Resort in Ky. and fell in love with the instrument. Toni mostly plays chord style as she plays along with husband Gary, who plays the mountain dulcimer. She has taught beginner workshops at several regional festivals. She really enjoys getting folks started on the autoharp. Toni and Gary have done occasional performances at several dulcimer festivals. Their recently released recording of instrumentals, Rats in the Fence Corner, features them with appearances by Doug Felt and Stephen Seifert.
Linda Sigismondi is a mountain dulcimer player and folksinger from Gallipolis and director of the Fort New Salem Dulcimer Festival. Her music includes traditional Appalachian tunes, traditional and contemporary folk music, and some original compositions that feature environmental themes. She has five mountain dulcimer books: Appalachian Ballads & Songs, Songs from Canal Days, Christmas Songs, Celtic Tunes, and Old Time and Fiddle Tunes. Linda has released a recording, Songs from Canal Days, with Bill Schilling and has companion recordings for her other books. She also plays guitar, Native American flute, Kratz zither, and MacArthur harp. Linda has taught workshops and performed at many folk music festivals in West Virginia, Ohio, and New York. Linda has played at Fort New Salem, West Virginia, for the Harvest and Christmas Festivals for many years. She is a Dulci-More member, attending a few activities a year even though she lives in Gallipolis. She has won many competitions at Roscoe Village Dulcimer Days and other competitions. Linda has been part of all of our Dulci-More Festivals.
Stringed Fantasy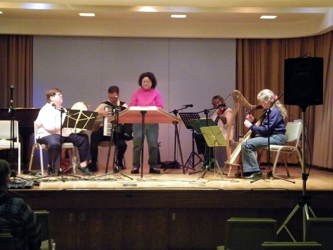 Stringed Fantasy returns from the Canton-Massillon and beyond area. Current members include Rosalind Wilson, Alma Houston, Greg Zuder, Nancy Koenig, Sue Wheeler, and (not expected at this year's festival) Linda Hill with hammered dulcimer, guitar, folk harp, violin, recorder, accordion, percussion, etc. They enjoy playing Celtic, folk, civil war era, and a variety of music. Several are Dulci-More members and some are members of the Canton Folk Song Society. Sue and Roz started giving workshops at Dulci-More Festival 2, and Stringed Fantasy has been with us for Dulci-More Festivals 3-11, 14, 15, 18, 19, 20, & 21.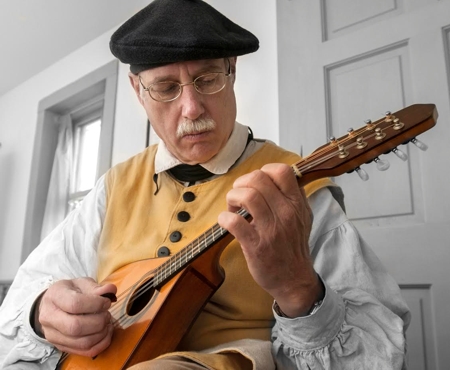 John Whitacre performs traditional music of the British Isles specializing in tunes popular in colonial America on violin, mandolin family instruments, mountain dulcimer, and guitar. He uses capos and a variety of tunings on mandolin, mandola, octave mandolin, mandocello, mountain dulcimer, and guitar to enhance the Celtic character of the tunes and because it's fun to explore those tunings. He played with the Bog Carrot in the 1990s, performing, among other places, at Burkhardt's Pub in Green and the Warren Celtic Heritage Fair, and he has played with assorted friends over the last few years. Now he is focusing on solo gigs as a historical musician and on recording. His first solo album, "The Rampant Mandolin," will be a collection of original tunes written in the style of 18th-century Scottish music.
He is a historian with a B.A. from Kent State, a writer, a calligrapher, and an avid reader on many subjects. He maintains a blog at http://rampantmandolin.blogspot.com/ and a Facebook page called The Rampant Mandolin. John has attended many Dulci-More Festivals, assisted Randy Clepper with workshops for Dulci-More Festival 14, and done a lot of parking lot jamming. John was with us for Dulci-More Festival 21 and is back again.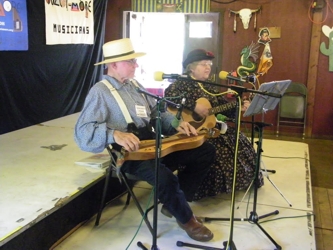 Alice Whitehill is a Dulci-More member from Hookstown, PA. She has been a part of all Dulci-More Festivals. Alice sings and plays dulcimers, autoharps, guitars, and more. She is often joined in performance by Earl Whitehill (her husband), Rachel Huff (her daughter), Deb or Kristi Boyd, or others. She also leads the Dulcimer Players of the Upper Ohio Valley. She and Earl have won a variety of competitions at Roscoe Village Dulcimer Days. Alice sells musical instruments and supplies as Stitches & Strings and is a vendor at this Dulci-More Festival.
Additional Workshops by Tom Ball, Jim Stone, Dulci-More Members (Jim Miller, Kathy & Richard Small and maybe others), Festival Vendors
Tom Ball with Just Plain Folk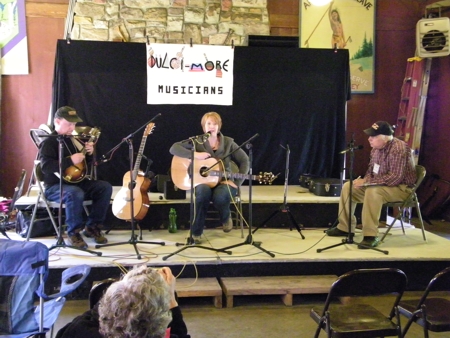 Wild Carrot with Tom Ball for Just Plain Folk at Dulci-More Festival 19
Special thanks go to Tom Ball of Just Plain Folk (previously a radio program and now a webcast at www.twistintomradio.com) for the support he has shown us by having Bill Schilling and other guests on the radio show to help promote Dulci-More Festival 6-20 as well as special Dulci-More events. For Dulci-More Festival 21, Bill expects to be back again (now on the webcast) with more live and recorded music from festival artists. The weekly show, which features recorded music, the Mountain Rose report, and live music from guests from the local area and beyond, with about 3 programs available at any time on the web. Starting with Dulci-More Festival 9, Just Plain Folk recorded a live interview for later broadcast as one of the workshops at the festival. Since Dulci-More Festival 10 they have done two different workshop interviews each year. Maureen Sellers even put out a CD with the material from her Just Plain Folk show. We expect to continue this relationship for Dulci-More Festival 21 with two more workshop interviews.
Performers & Performance Order Subject to Change as Needed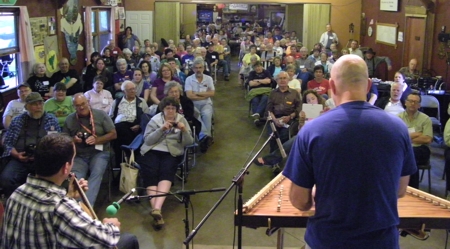 Mark Wade, Dan Landrum, & Audience at Dulci-More Festival 20
Festival Vendors (not all confirmed yet)
Alice Whitehill (Stitches & Strings)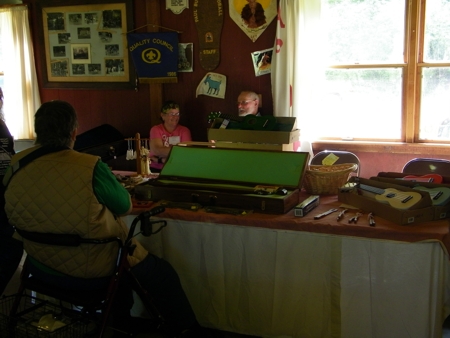 Alice Ann Whitehill will be back again for Dulci-More Festival 22 with stock from Stitches and Strings. Alice expects to have a variety of instructional, song, and tune books for different instruments. She will also have accessories including strings, stands, electronic tuners and tuning clips, picks, and more. Alice also has several instruments in the shop including lap dulcimers and Oscar Schmidt guitars and autoharps. Alice is a Dulci-More member and has been a part of all of our Dulci-More Festivals. Alice has regularly contributed prizes for our Name That Old Time (or Other) Tune Contest and will do so again this year.
Connie & Don Shutts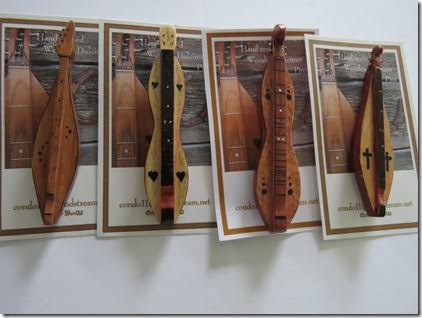 Connie & Don Shutts will be vending for the first time at Dulci-More Festival 22 with Dulcimer Jewelry that she makes. They are from Chardon.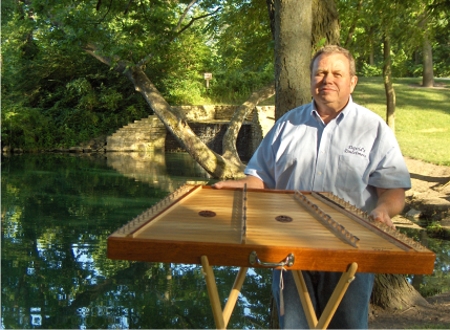 David's Dulcimers carries a full line of hammered dulcimers made by David and Cara, various mountain dulcimers, Waynie's psalteries, musical accessories, books, CDs, and more. Find them at 654 Acorn Lane, Bennington, Oklahoma 74723, call them at 580-847-2822 or email them at info@davidsdulcimers.com. David Lindsey, the proprietor of this thirty-six year old company, has designed and assembled an assortment of dulcimers that deliver the powerful dynamic range with low sustain that is preferred by such artists as Bill Spence, Walt Michael, Cathy Barton Para, Dana Hamilton, Kendra Ward, Linda Thomas, and Guy George.
Lynn McLeish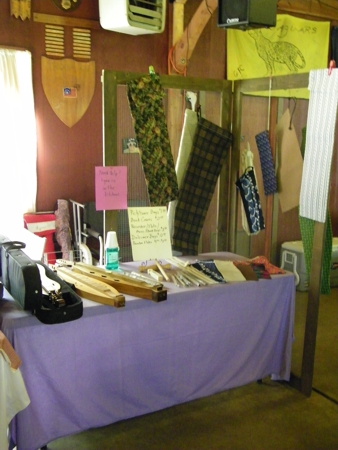 Lynn will have a selection of home made and other musical accessories available for festival attendees. This is her eighth time vending at a festival, but she was in charge of our Dulci-More Festival kitchen for Festivals 13, 14, 20, & 21 and is once again a key part of the planning and working group for this year's festival.
Mary Thompson
Mary Thompson will be vending for the first time at Dulci-More Festival 22. She is a long time Dulci-More member and expects to be selling various autoharps, other instruments, and accessories that she has accumulated over the years.
Prussia Valley Dulcimers Acoustic Music Shop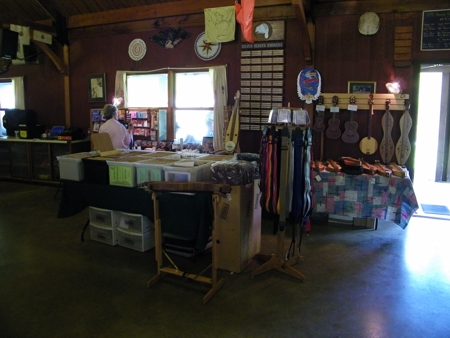 Gary and Toni Sager were with us for the first time at Dulci-More Festival 12 and this will be their eleventh year with us. They have been vending at festivals around the country for several years with the Prussia Valley Dulcimers that Gary makes and many other products. After years of doing that, they also opened their Prussia Valley Dulcimers Acoustic Music Shop in Waverly, Ohio a couple of years ago with a full stock of folk instruments, books, recordings, and accessories. The shop is located at 122 North Market Street, Waverly, OH 45690; 740-941-1271.
Known as the Ohio Bag Lady, Lee Felt sews quality mountain dulcimer cases and other accessories. Lee and her husband, Doug, and their products were known at dulcimer festivals around the country for their fine products. Since Doug passed away in 2014, her daughter, son-in-law, and granddaughter heave been helping keep up with production so that Lee can continue the circuit. Thistledew Acres was with us for our first and second Dulci-More festivals at Rainbow Lakes.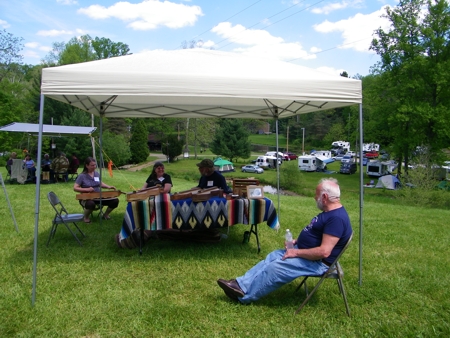 Paul Conrad is from Holmes County, Ohio. He started building mountain dulcimers for a while in the mid 70s, and he returned to building them in 2005. He mixes woods in visually stimulating patterns on some of his dulcimers to give them a unique look. He has taken his dulcimers to several festivals. This is Paul's eighth time at a Dulci-More Festival.
Wayne and Becky Simms sell the Ultimate Bowed Psaltery and other models hand made by Wayne along with other useful musical accessories and Wayne's novels. They often tour the country with and vend alongside David & Annette Lindsey. This is their first Dulci-More Festival.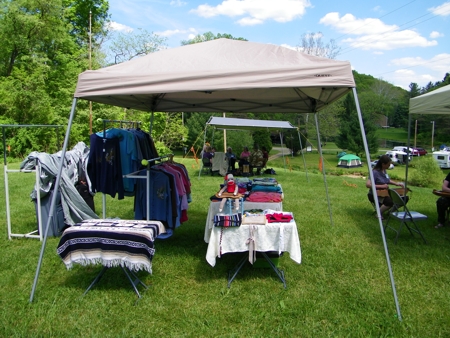 Marge Diamond will be back with Winsome Expressions including airbrushed music themed shirts and other items for sale. Look for her latest "Ultimate Totes" with music themes. Marge is based in Elyria and can be reached at mtmarge7@windstream.net.
---
Contact Bill Schilling by e-mail.
Return to Bill Schilling's Home Page.
Links to Other Home Pages Developed by Bill Schilling
Contact Information
Bill Schilling, Dulci-More Festival Director
984 Homewood Avenue
Salem, Ohio 44460-3816
234-564-3852
234-564-DULC