This information is now current for Dulci-More Festival 23 in 2017
Dulci-More Festival 23
Concert, Mini-Concert, Workshop Presenters & Vendors
Note: Clicking on most of the photos on this page will open them in a new window in a higher resolution more appropriate for use in press releases. However, we do not have higher resolution photos of all of the artists, but there should be something appropriate for most press releases here.
For Festival downloads, schedule, workshop grid, and registration, go to the main Dulci-More Festival page.
Link to Online Registration Page
(Online registration page will be taken offline around on Wednesday, May 24 to allow final preregistration information to be coordinated by the registrar)
Updated May 15, 2017
(Some Presenters Will Only Be at the Festival One Day As Indicated in the Schedule)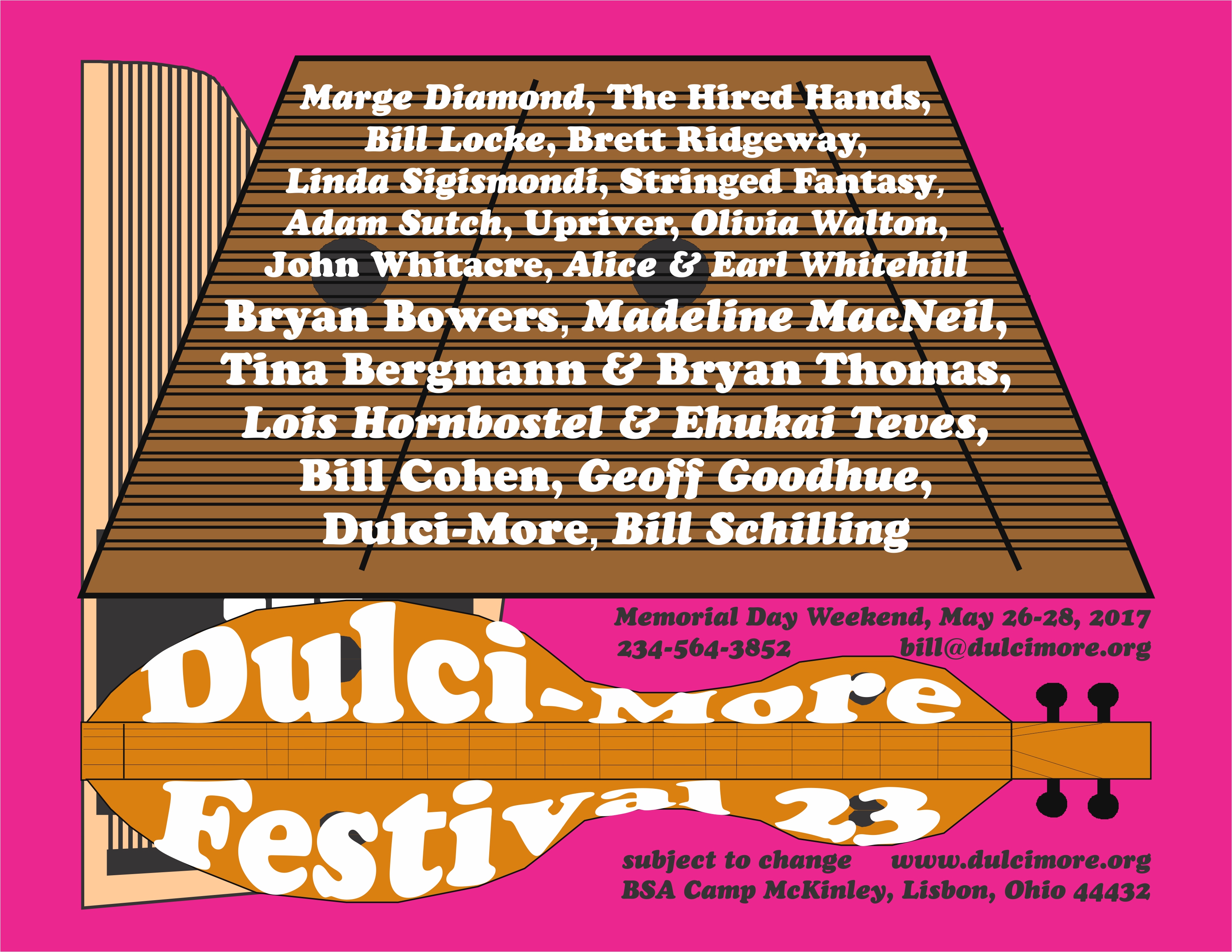 Concert, Mini-Concert, & Workshop Presenters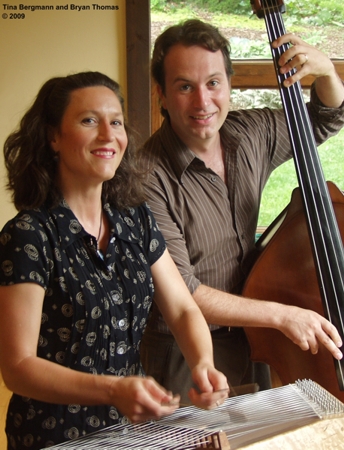 Tina and Bryan create engaging concerts of traditional American fiddle tunes and waltzes, string band rags, and Celtic jigs and reels, with a sprinkling of South American gems and the occasional Classical piece thrown in for good measure. Tunes gleaned from late night jam sessions and dances with incredible old time musicians, from their travels to festivals throughout the country, from collegiate ragtime archives and from Bryan's solo bass repertoire are all part of the music of their lives. With their playful and relaxed stage presence they create an entertaining and memorable program ideal for a multitude of events.
Tina and Bryan's joy in their music is readily apparent. A quote from their release, All Roads Lead Home, says it all ".... Like most people, we are exposed to music and stories from all over the world. The common thread of the music here is how we've chosen to own what we've found. We travel many roads in our lives, and when we encounter something that rings true, we take it home."
Tina and Bryan have been performing together for 15 years. This husband and wife duo met at Kent State University where Tina received a degree in Music Education and Bryan received a Bachelor of Music in Bass Performance. Their mutual love of and interest in music of many cultures brought them together and they began performing together in the fall of 1995. They were married in June of 1998 and now have two wonderful children, Isabel and Theo.
Tina Bergmann began playing music at age eight, learning the mountain dulcimer from her mother in the aural tradition. What had begun as simply listening and watching a group of old-timers getting together and playing the music of their youth soon blossomed into a family activity. It wasn't long before the Bergmann family was embraced by and an active part of the rich community of old-time music and dance in northeast Ohio. Tina started playing the hammered dulcimer during a particularly bad bout with the chicken pox and fell in love with the powerful energy of its sound. Soon after, her father began making hammered dulcimers-one of which Tina still plays today.
Tina is a primarily self-taught musician of 27 years and a highly regarded teacher known for her warm and engaging teaching style. Teaching her first workshop at age 12, Tina went on to establish a thriving private studio while instructing and performing at festivals and camps throughout the country. Promoted as the "Diva of the Dulcimer" by Apollo's Fire, Cleveland's nationally known Baroque Orchestra, Tina is known for her driving energy and syncopated rhythms and was described by Pete Seeger as "The best hammered dulcimer player I've heard in my life."
By the time she earned an education degree from KSU in 1994, Tina had already been teaching privately for 11 years. Her teaching experience included planning and facilitating master classes, workshop series, and teaching weeklong camps in a number of states.
With her critically acclaimed contra dance band Strings & Things (Tina on hammered dulcimer, David Rice on harmonica & fiddle, and Mark Delozier on piano,) Tina has played contra dances and family dances throughout Ohio as well as in Kentucky, Michigan, Massachusetts, North Carolina, Pennsylvania, Tennessee, Virginia, and West Virginia. Since 1983, with dance maven Carol Kopp calling the dances, Strings & Things and now Hu$hmoney, have been the house band at a bi-weekly contra dance now situated in Peninsula, OH at a historic high school built at the turn of the 19th century.
Bryan Thomas is a versatile bassist with an active teaching schedule, and performs as a free-lance musician throughout northeast Ohio. He is the double bass instructor at Kent State University's Hugh A. Glauser School of Music, and also teaches in the jazz program of the Metro Campus of Cuyahoga Community College. His major teachers have included Anthony Knight and the virtuoso double bass soloist Francois Rabbath. Mr. Thomas, who graduated from Kent State University in 1992, has been an Ohio Arts Council guest artist in residence, and toured with the Glenn Miller Orchestra in 1994. He plays many different styles of music, and, most notably, has studied Cuban music and dance in the Escuela Nacional de Arte in Havana, Cuba. He has performed many solo bass concerts, both with piano and orchestra.
Bryan began playing music in his grade school string program on cello before he discovered there was something bigger and switched to the bass. His playing has been influenced greatly by his exposure to Ray Brown, Gary Karr, David Walter, and particularly Francois Rabbath. Bryan can be heard as a soloist and support musician in an incredible array of diverse situations such as symphonic and chamber ensembles, salsa and swing bands, playing and singing jazz, blues, bluegrass, Cuban music, American old time, as well as helping to create Ohio Arts Council projects involving poetry, art dance, theater, visual arts, and community works.
Tina and Bryan performed at the Dulci-More Concert Series in 2005 and for Dulci-More Festival 12.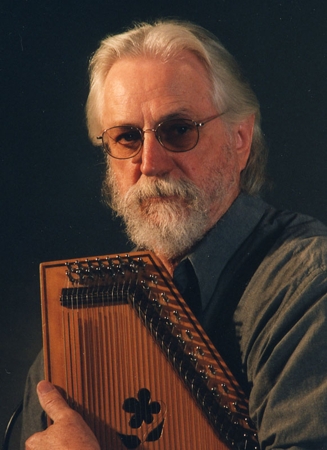 Born in Yorktown, Virginia, Bryan Bowers was raised in New Bohemia near Petersburg of the Civil War's Battle Of The Crater fame. As a child, Bowers would tag along with the field workers and gandy dancers and learned to sing old call-and-answer songs. Bowers recalls, "The music I heard while working in the fields was mesmerizing. And, I'd see the gandy dancers coming down the tracks, setting the rails and getting their ties straight. You've heard that song `Whup Boys, Can't you line 'em?, Chack a lack.' Whup Boys, can't you line 'em? was the call the leader would sing. Chack a lack was the bounce- back of the hammer after falling on the pin. I just thought that music was something that everyone did. It was years later that I realized what I'd been raised around."
Bowers enrolled at Randolph Macon College in Ashland, Virginia, but found that college was not satisfying an emptiness he felt. Three hours short of earning a degree in Spanish, Bowers dropped out. About the same time (the late '60s), Bowers discovered music when he took up the guitar. "The roots of the music had gone real deep in me. Music was real fulfilling, unlike anything I had ever done before."
It wasn't long before Bowers encountered the autoharp. "I ran into a guy that played several instruments and could get the harp in good tune. He played without any fingerpicks, just with his fingernails. He had a real sprightly style on it. It was the first time I'd heard someone play it in good tune and play it well. It opened my eyes and my ears. I went out and got one the next day."
Bryan relocated to Seattle in 1971 and played for coins as a street singer and in bars for the right to pass the hat. Once he had polished his technique, he headed east in a 1966 Chevy panel truck he affectionately called "Old Yeller." "The Dillards heard me in DC when I went to the Cellar Door," recalls Bowers. "I introduced myself and played the `Battle Hymn Of The Republic' to show them how the harp worked. Sam Bush, Curtis Burch, and Courtney Johnson of the New Grass Revival were there. I didn't realize how presumptuous I was being. The Dillards took me to a bluegrass festival at Berryville, Virginia, and when they got an encore, they put me out there for their second encore, saying `Here's a guy you ought to hear.' The bluegrass community has been real supportive."
Bower's creativity and talent have won him induction into Frets Magazine's First Gallery of the Greats, after five years of winning the stringed instrument open category of the magazine's readers' poll. This distinction put Bowers along side other luminaries, such as Chet Atkins, David Grisman, Stephan Grappelli, Itzhak Perlman, Tony Rice, Rob Wasserman, and Mark O'Connor, recognized for their personal accomplishments. In 1993, Bryan was the first living member inducted into the Autoharp Hall of Fame to stand only with Maybelle Carter, Kilby Snow, and Sara Carter. In 2003, Bryan organized and co-produced Autoharp Legacy. He brought together 55 autoharp players and created the definitive three-CD set on autoharp music. In addition, Bryan Bowers' critically acclaimed recordings on Flying Fish/Rounder Records are: The View From Home, Home, Home On the Road, By Heart, Friend For Life and For You.
From his rather unglamorous beginning as a street singer, Bryan Bowers has become a major artist on the traditional music circuit. He has redefined the autoharp and is also well known as a singer-songwriter. Bryan has a dynamic outgoing personality and an uncanny ability to enchant a crowd in practically any situation. His towering six foot four inch frame can be wild and zany on stage while playing a song like `Dixie' and five minutes later he can have the same audience singing `Will The Circle Be Unbroken' in quiet reverence and delight.
In 2006 Bryan's landmark recording, Bristlecone Pine, was released on Seattle Sounds with distribution assistance by Plectrafone Records. Autoharp partner and close friend, Ron Wall, directed and created the recording. Several of Bryan's friends from through-out the years offered musical assistance, including: Tim O'Brien, Sam Bush, Mark Howard, Alan O'Bryant, Pat Enright, Dennis Crouch, Stuart Duncan, and Ron Wall. A feature story on Bryan in the Feb/March 2007 issue of Dirty Linen stated, "Like the venerable pine of the title track, autoharp virtuoso Bryan Bowers' vocal style and instrumental prowess have grown in depth and genius over the decades…to listen to this recording is to experience all the colors and emotions of a lifetime. Truly Bowers' finest work to date…"
Crabby Old Man was released in 2011. This anti-produced and unvarnished recording offers 12 charming selections from Bryan's vast repertoire. This CD sans editing, overdubs, and compression sounds as if Bryan is playing in your living room for just you and your friends. An intimate musical experience from the man who re-defined the autoharp.
For over four decades, Bryan Bowers has been to the autoharp what Earl Scruggs was to the five-string banjo. He presents instrumental virtuosity combined with warmth, eloquence, expression, and professionalism.
Bryan Bowers has performed for the Dulci-More Concert Series in 2003, 2004, 2006, and 2008. This is his first time at our festival. Bryan will be joining Geoff Goodhue in Geoff's Concert set, and Geoff will join Bryan in his concert set.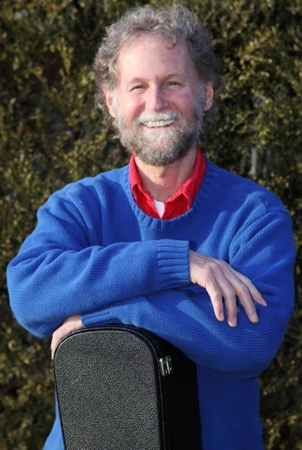 Bill Cohen of Columbus has been singing and playing folk music for a half-century. He loves to use music to spark people's emotions, and he loves to link music to our nation's history. That's why Bill regularly produces a "Spirit of the 1960's Coffeehouse," a live program where Bill sings protest songs of the turbulent decade, displays anti-war and civil rights buttons of the era, shows off 1960's posters and newspapers, and challenges audiences with 1960's trivia questions. Bill also regularly does concerts with other themes: love songs for Valentines Day, songs of gratitude for Thanksgiving, early rock and roll from the late 1950's, a celebration of the early civil rights movement, and even a program with songs about all aspect of death. Bill performs wherever people can be moved by music: nursing homes, schools, retirement villages, colleges, churches, synagogues, and more.
This is Bill's first Dulci-More Festival.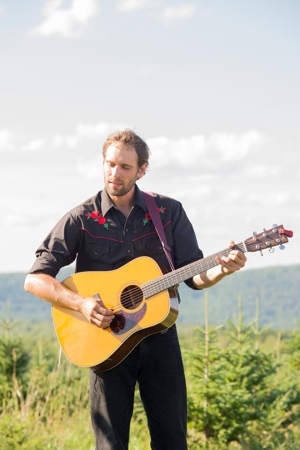 Having begun Suzuki violin method at age 5, Geoff Goodhue transitioned his focus to drumming at age 10 and went on to graduate from Ohio University in 2004 with a B.F.A. in Percussion Performance plus a certificate in Environmental Studies.
Geoff has privately instructed guitar, mandolin, and drum students in Ohio, Massachusetts, and Vermont over the course of the past 13 years. Since moving to Vermont in 2008, he has worked and performed with the Bread and Puppet Theater and accompanied Afro-Caribbean dance and creative movement classes through Catamount Arts and the Vermont Art House. Geoff serves as the drummer for Vermont Vaudeville's house band (vermontvaudeville.com) and mandolinist/vocalist in both Granite Junction (granitejunctionvt.com) and Beg, Steal or Borrow (begstealorborrowvt.com).
Geoff has appeared on Mountain Stage in Morgantown, West Virginia and at Appleton Wisconsin's Mile of Music with Composer and Producer Nick Vandenberg (nick-vandenberg.com). Geoff's family outfit, The Goodhues Band, was featured at the 2016 Mountain Laurel Autoharp Gathering in Newport, PA (goodhuesband.com). He is the drummer for Athens Ohio's Realbilly Jive which recently released "You and the World Outside", a full length album of J.D. Hutchison's original songs on Howdy Skies Records in collaboration with and featuring Tim O'Brien. Geoff will perform with J.D. and Realbilly Jive on Mountain Stage this coming January 22nd (jdhutchison.com). Geoff will also be performing with influential singer, songwriter, and autoharpist, Bryan Bowers throughout the U.S. this coming year.
This is Geoff's first Dulci-More Festival. He will be joining Bryan Bowers in Bryan's Concert set, and Bryan will join Geoff in his concert set.
Lois Hornbostel & Ehukai Teves
The Dulcimer Players News has written: "Lois Hornbostel enjoys a well-deserved reputation as one of the most influential mountain dulcimer performers, teachers, and organizers in the country … her instruction books and recordings of fiddle tunes, Irish tunes, and dulcimer duets, rounds, and ensembles have been an inspiration to an entire generation of dulcimer players."
For over 30 years Lois has been a student and innovator of mountain dulcimer playing technique and repertoire. She learned to play Southern Appalachian style from traditional North Carolina dulcimer players Frank Proffitt, Jr. and Stanley Hicks, and has won first place in dulcimer competitions at the Galax, Mt. Airy, Elk Creek, Alleghany County, Dublin, and Fiddlers Grove old-time music conventions.
The music styles Lois plays on her dulcimer go beyond Southern Appalachian, and she has introduced the instrument's voice in new musical settings. It's not unusual to find Lois playing her mountain dulcimer with old-time, Irish, Cajun, or Scandinavian musicians.
Books Written: Lois's books, published internationally by Mel Bay, include The Irish Dulcimer; Dulcimer Fiddle Tunes; Anthology for the Fretted Dulcimer; Dulcimer Duets, Rounds & Ensembles; American Fiddle Tunes for Mountain Dulcimer; and Cajun Favorites for Mountain Dulcimer. Mel Bay Publications asked Lois to edit their online "webzine," DulcimerSessions.com, which features articles and music about mountain and hammered dulcimers.
Recordings: Lois's recordings include an "Indie" Award finalist in their World Music category - "Vive le Dulcimer" - and her current CD with International Autoharp Champion Mike Fenton, "A Melodious Meeting." She has also been featured on several other recordings including "Masters of the Mountain Dulcimer, Volume I" and the "Masters of the Mountain Dulcimer" Christmas album.
Awards:
In 1981, early in her career, Lois was awarded the prestigious "Kentucky Colonel" award in Kentucky, for her traditional music, research, books, and organization of dulcimer events.
Galax Old-Time Fiddlers Convention Champion Dulcimer Player, 1986.
Fiddlers Grove Old-Time Fiddlers Convention Champion Dulcimer Player and Runner-up Old-Time Band award with her band, the "Crescent Moon Rounders."
Teaching & Organizing: A natural and inventive teacher, Lois fills her dulcimer playing classes with good sense, encouragement, enthusiasm, and organization. In 1987 Lois began organizing dulcimer weeks at the university level, starting with the Appalachian State University Dulcimer Playing Workshop in Boone, NC for 13 years. In 2000 she founded the Western Carolina University Mountain Dulcimer Week and produced it for 10 years. Additionally, she was Coordinator of the Swannanoa Gathering's Dulcimer Week for 18 years.
The culmination of all Lois's organizing experience is "Dulcimerville," a weeklong event for mountain dulcimer players of all skill levels, which she began independently producing in 2010 through 2013. To allow Lois more time to perform and teach, weekend events at Dulcimerville will be offered in lieu of one weeklong event. For more details visit http://Dulcimerville.com
Working for the South Carolina Arts Commission, the NC Arts Council, and independently, Lois has conducted arts-in-schools residencies for over 19,000 children. She has a classroom set of dulcimers for each child, and they build 2-3 from kits so dulcimer music can continue in the school.
Lois was previously with us for Dulci-More Festival 5.
Ehukai Teves was born in Hawaii. His father was an Army medic and his mother an Army nurse. His family traveled the world, living in Hawaii, North Carolina, Okinawa, and the Canal Zone. The family's roots run deep in Hawaiian culture and music. Both of his parents earned "Living Legend" awards – his father for restoring the historic Kahikolu Church on the Big Island, and his mother for her work in preserving the Hawaiian native language. They also performed throughout the islands, singing and playing the "old-style" Hawaiian music with Ehukai playing bass. Ehukai holds a B.A. degree in Music Theory and Vocal Performance from the University of Hawaii. From his teens he established and led working bands in Panama and Hawaii, and he has performed with Hawaiian music icons Keola Beamer and Moses Kahumoku. If Ehukai looks a little familiar, you might have seen him as an actor, extra, and surfing stuntman on the original "Hawaii Five-0" TV series. He has composed over 300 songs, among them a Hawaiian Grammy winner. Besides mountain dulcimer, Ehukai plays the Chapman Stick, Hawaiian-style ukulele, bass, and guitar.
Here on the mainland, Ehukai met Jean Ritchie, who became a good friend and admired his music. Her influence graced his understanding of Appalachian music and the mountain dulcimer, and Ehukai has used all his band experience to the instrument's benefit. He developed the "Home-Middle-Outside" system of playing mountain dulcimer in 8 different keys using DAD tuning. He and Lois Hornbostel have combined their substantial talents and experience, playing concerts and teaching mountain dulcimer and ukulele throughout the year.
Living in the Great Smoky Mountains, Ehukai has been warmly welcomed by old-time and bluegrass musicians. Traveling to Southern Appalachian fiddle conventions to learn tunes, he has been awarded the mountain dulcimer championships at Union Grove (3 times), Fiddlers Grove, Ashe County, Alleghany County, and has placed in traditional folk song and dance competitions as well.
This is Ehukai's first Dulci-More Festival.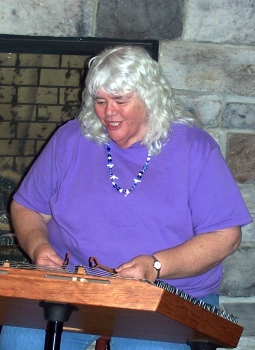 Madeline MacNeil's audiences hold their collective breath as the last notes of her songs drift into the tableau of stages large and small. Since 1972, when she began performing in Virginia's Shenandoah National Park, Madeline's goal has always been to bring listeners into the song. Her interest in stories first brought the mountain and hammered dulcimers to her attention, for they are part of this country's musical history. This is part of Madeline's treasure as a performer: she sings and tells the stories with her beautiful voice and exceptional dulcimer skills.
Madeline's New England ancestors (she's a first-generation Virginian) arrived in the fishing and mariner towns of Rockport and Gloucester, Massachusetts in 1635, while her Canadian forbears came to Cape Breton from Edinburgh in the mid-1800's. She knits it all together: Scotland's countryside, the lives of families separated and brought together by the sea, and the resilience and art of those who settled in the Appalachian Mountains.
Her recording career began in 1983 and now includes more than a dozen independent releases, including tributes to her family heritage on Songs Of Earth and Sea and her love for jazz on As Time Goes By. Heart's Ease (classical and Celtic music featuring the hammered dulcimer) won an Indie for string music from NAIRD, while Christmas Comes Anew was a finalist for this coveted award. Her recording of "Shenandoah," her signature song, has been used extensively in Public Television productions.
She has performed in schools for students from elementary through high school and often invited them to play a little on her dulcimers. The Barns At Wolf Trap has presented her in concert, as have arts centers, churches and universities throughout the United States. Across the Atlantic, she has performed at the O'Carolan Festival in Keadue, County Roscommon, Ireland; the Glasgow Festival of the Arts in Scotland; and for the Nonsuch Dulcimer Gathering in East Norton, Leicestershire, England. For several years she was a touring artist under the sponsorship of the Virginia Commission for the Arts. She's been honored by folk organizations and festivals.
Madeline is a best-selling author of mountain and hammered dulcimer books for Mel Bay Publications, and from 1978 through 2006 she was the publisher of Dulcimer Players News, a quarterly publication devoted to both hammered and mountain dulcimers.
Maddie has been with us for Dulci-More Festivals 6, 10, and 15 and previously performed for our concert series in 2002, 2014, and 2016.
Bill Schilling is a high-energy folk-style singer and multi-instrumentalist who believes that this type of music should be inclusive. He is the founder and leader of Dulci-More and the Dulci-More Festival and a member of many other groups, which share or support the music. At Dulci-More Festivals, he has performed solo and as Bill Schilling with Carol Ellis; Bill Schilling, Linda Sigismondi, and Marge Diamond; Bill Schilling & Folks; Threes Co.; Whistler's Lane; and presented his Schilling's Slides, Songs, & Stories program. Bill has put together the music that Dulci-More uses and has it available in several volumes and formats: Dulci-More Public Domain Songbooks -- Volumes 1, 2, 3, Christmas Volume (all with numbers for lap dulcimer melody strings as well as music, chords, and lyrics), Autoharp Volume (with melody chord numbers in place of the dulcimer numbers), General Volume (with DAA Numbers) which is the full size version of the four smaller volumes plus much more material, Lyrics with Chords for those who prefer not to have the written music, but want to play along, and Lyrics Only for those who just want to sing along. The full size version is over 300 pages with over 300 songs. Bill has released a CD, Songs from Canal Days, with Linda Sigismondi and continues to threaten to release more recordings upon the world. Since 2005 with Dulci-More members Marcy and Dale Tudor, he has been the Music Coordinator and a regular instructor for Folk Music at Weatherbury Farm, the Tudor's award winning farm vacation bed and breakfast in Avella, PA. Bill has also been an instructor at John C. Campbell Folk School.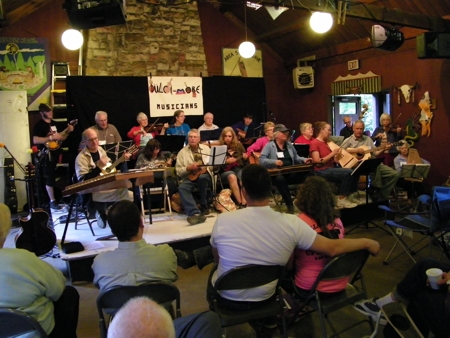 Dulci-More: Folk & Traditional Musicians is a club that started in January 1993, at the First United Methodist Church of Salem. The purposes of the club are to have fun with folk-style music and to share that music with others. The club meets at 7:00 pm on the first Tuesday and Third Tuesday (note: it was the third Wednesday until January, 2000) of each month just off the sanctuary in the Unity Classroom of the First United Methodist Church of Salem, 244 South Broadway, Salem, OH 44460. All levels of acoustic instrumentalists and singers are always welcome at the meetings to jam, to learn, to listen, or to perform. Call ahead if you are coming from far away since performances or special meetings may be scheduled a few times a year on regular meeting nights. Since October of 2014, Dulci-More also has DUH! Dulci-More Ukulele Hangout. DUH! meets on the second Tuesday at 7:00 PM and the fourth Tuesday at 2:00 PM at the First United Methodist Church of Salem. Playing all styles of ukes, they sing along on a wide variety of songs and styles. They also welcome all levels of players and singers, and they have loaner ukes available at meetings.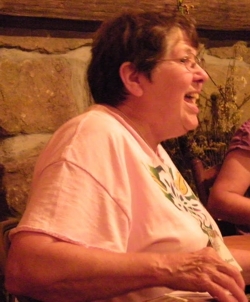 I, Marge Diamond began playing dulcimer twenty-nine years ago. Without any musical background, but with tons of enthusiasm, I passed through the beginner stage. Progress was slow and quite painful at times, but persistence began to pay off. By attending dulcimer workshops when ever possible and hanging out with other musicians I began to pick up some technique, learned to keep a fairly good beat, and began making a few fiddle tunes my own.
Learning to play was an amazing thing for me, but then there are the fantastic people I have met along with the tunes. I just would never have believed that adults could come together to share music and have so much fun. There is nothing to compare. For twenty-seven years I have been doing this, and it still feels new and fresh. I am still learning. There is love shared with the learning of the music.
Currently Marge plays with The Oberlin Dulcimer Group and Dulci-More. Marge has performed and taught Dulcimer workshops since 1987. She has been on hand teaching and performing at all of the Dulci-More festivals, at most of the Fort New Salem Festivals, at several of the Kent State Folk Festivals, and has been on hand for some of the COFF festivals. Since retirement in 2003 Marge has been pursuing her love of making art. With her business, Winsome Expressions, she makes airbrushed music themed shirts, "Ultimate Totes", and other items for sale. Marge has one recording, Beyond Cabbage. which has occasionally been available on CD.
Marge has been part of all of our Dulci-More Festivals.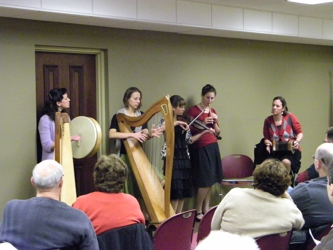 The Hired Hands are a very local group for our festival (living about a mile from the festival site) and have attended some workshops at the festival in the past as well as a couple of Dulci-More meetings over the years. Their preference is for Scottish music (with some Irish and other Celtic music mixed in). Dulci-More Festival 15 was the first time that some of the group members gave workshops at a festival, and they were back for Dulci-More Festival 16, 17, 18 (featured in an evening concert that year), 19, 20, 21, and 22. They also played for the Dulci-More Concert series in December of 2012. They are returning for Dulci-More Festival 23. These sisters from the Miller family include:
Allison Miller began her musical career at age three with Suzuki piano lessons under the tutelage of Carol Wunderle and although she continued to play piano for the next thirteen years, she picked up the harp at age fourteen and began to explore the traditional music scene. She attended workshops at the Ohio Scottish Arts School and, after completing an undergraduate degree in biology, had the opportunity to pursue post-graduate studies in Clarsarch (Scottish small harp) and Scot's Song at the Royal Scottish Academy of Music and Drama in Glasgow, Scotland. Allison taught with the Comhaltas coinin Erin group in Scotland, has taught both privately and publicly in America, and has appeared in concert in Scotland, Canada, and at multiple venues in the States. She and Sairey play as a duo, "The Hired Hands,' and they released their first CD, Something, in the spring of 2009. She has her Doctorate in Physical Therapy and hopes to bring both good tunes and ergonomic playing techniques to the field. She has competed extensively and has been awarded the title of National Scottish Harp Champion of America after winning the 2012 National Scottish Harp Competition.
Sairey Miller has studied the Suzuki piano method under Mary Louise Foster for ten years, and discovered her love of traditional music when she began to play harp at age eight. She has taken workshops at the Ohio Scottish Arts School, at the 2007 Edinburgh International Harp Festival in Edinburgh, Scotland, and has had the privilege of studying under such diverse musicians as Sue Richards, Ann Heymann, and Sharon Knowles of the US, Wendy Steward, Catriona McKay, and William Jackson of Scotland, and Robin Huw Bowen of Wales. She has completed two Bachelor's Degrees in Biology and Philosophy and is currently pursuing Graduate School as a Physician Assistant. Sairey was awarded the title of National Scottish Harp Champion of America after winning the 2008 National Scottish Harp Competition.
Laura Miller has studied the Suzuki piano method under Mary Louis Foster since age six, and picked up the violin at age 10. She attended the Ohio Scottish Arts School and was duly converted to the realm of traditional music -- she now plays only Scottish, Irish, Quebecois, and Welsh fiddle tunes. Since 2005, she has studied under fiddle masters Andre Brunet of Quebec, Anna Wendy Stevenson and Mike Vass of Scotland, and Ed Pearlman of Maine, and she has competed at the Ohio Scottish Games, the Ligonier Highland Games in Pennsylvania, and also at the 2010 National Fiddle Competition in Virginia. She is currently playing with small folk groups and enjoying the college music scene where she is studying Liberal Arts at Wyoming Catholic College in Lander, Wyoming.
Micah Miller has studied the Suzuki piano method under Mary Louis Foster for the past nine years and picked up the Anglo concertina in 2005. With the concertina she is mainly self-taught, learning tunes by listening to CDs and playing with her sisters. In addition, however, she has had the chance to take workshops with brilliant concertina players such as Grainne Hambly, Caroline Keene, and Frank Edgley. The lighthearted tone of her concertina may be heard on several tracks on the family CD and she often joins her sisters onstage. She plays many local gigs and sessions, most recently being involved in a musical recording project for Christendom College in Front Royal, VA, where she is currently studying.
Maggie Miller began playing the piano at age 6 and found her niche in the traditional music scene when she picked up the tin whistle two years ago. She enjoys performing with the family band and has attended tin whistle workshops at the Celtic Roots Festival in Goderich, Ontario. Depending upon the tune, Maggie will pull out a multitude of smaller penny whistles, the Irish low whistle, piano, or percussion...so listen out for some amazing diversity of tones during the program!
Since they are coming from their current locations all around the country, we may not know how many of them will be with us until shortly before the festival.
Bill Locke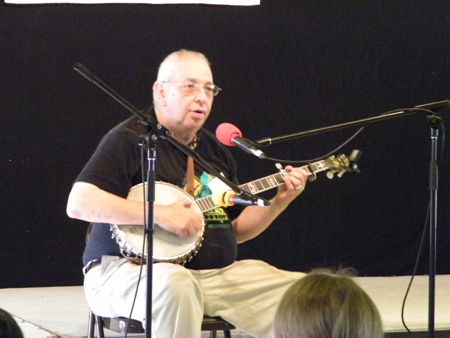 Bill Locke
For over fifty years Bill Locke has been entertaining audiences with his music which includes old-time dulcimer, guitar, and banjo, as well as ragtime guitar and spirituals. Bill grew up in the New England area and played in several clubs around Boston, New Hampshire, and Maine. Bill joined the United States Navy and served for 26 years. He then moved to the Pittsburgh area resuming his music and performing in South Western PA and in Wheeling WV. Recently Bill is most readily found at old-time and dulcimer festivals. He has played the open stage at Dulci-More for five years (once with his wife, Judy). Bill has a distinctive banjo style learned from people of West Virginia and others that have learned from them. Dulci-More Festival 21 was his first time giving a mini-concert and leading workshops for us, and he has been back again for Dulci-More Festivals 22 and 23.
Brett Ridgeway's philosophy is that "anyone can make music, regardless of age, musical ability or knowledge!" Brett teaches several workshops throughout the tri-state area and is a full-time musician/instructor. He currently teaches hammered dulcimer, mountain dulcimer, bluegrass banjo, clawhammer banjo, beginner acoustic guitar and mandolin. He currently has a lesson series available on YouTube and also teaches lessons via Skype and FaceTime. He has been a featured teacher and performer at the Roscoe Village "Dulcimer Days Festival" in Coshocton, Ohio and was one of the founders of the revamped "Coshocton Dulcimer Festival". He is a third year teacher at the Pocono Dulcimer Winterfest in Stroudsburg, PA and an advanced instructor at the Buckeye Dulcimer Festival in Ashley, Ohio. He will be teaching this fall at the Nutmeg Dulcimer Festival in Milford, Connecticut. He has also hosted several self-sponsored workshops. His most recent in Tampa, Florida with 37 attendees, one participant drove all the way from Texas for the three-hour workshop! Known from online teaching, one student drove from Miami, Florida to one of his workshops held in south-western Pennsylvania. Brett tours promoting traditional American music as "Homestead Creek". He has released a total of nine recordings; of which five are currently available. Additionally, an original composition written and performed by Brett Ridgeway is featured in the soundtrack of "The Path of the Wind", a 2010 movie which features Wilford Brimley. Brett was with us for Dulci-More Festival 21 and has been back again for Dulci-More Festivals 22 and 23.
Linda Sigismondi is a mountain dulcimer player and folksinger from Gallipolis and director of the Fort New Salem Dulcimer Festival. Her music includes traditional Appalachian tunes, traditional and contemporary folk music, and some original compositions that feature environmental themes. She has five mountain dulcimer books: Appalachian Ballads & Songs, Songs from Canal Days, Christmas Songs, Celtic Tunes, and Old Time and Fiddle Tunes. Linda has released a recording, Songs from Canal Days, with Bill Schilling and has companion recordings for her other books. She also plays guitar, Native American flute, Kratz zither, and MacArthur harp. Linda has taught workshops and performed at many folk music festivals in West Virginia, Ohio, and New York. Linda has played at Fort New Salem, West Virginia, for the Harvest and Christmas Festivals for many years. She is a Dulci-More member, attending a few activities a year even though she lives in Gallipolis. She has won many competitions at Roscoe Village Dulcimer Days and other competitions. Linda has been part of all of our Dulci-More Festivals.
Stringed Fantasy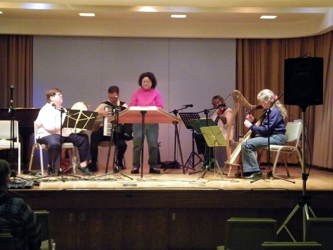 Stringed Fantasy returns from the Canton-Massillon and beyond area. Current members include Rosalind Wilson, Alma Houston, Greg Zuder, Nancy Koenig, Sue Wheeler, and (not expected at this year's festival) Linda Hill with hammered dulcimer, guitar, folk harp, violin, recorder, accordion, percussion, etc. They enjoy playing Celtic, folk, civil war era, and a variety of music. Several are Dulci-More members and some are members of the Canton Folk Song Society. Sue and Roz started giving workshops at Dulci-More Festival 2, and Stringed Fantasy has been with us for Dulci-More Festivals 3-11, 14, 15, 18, 19, 20, 21, & 22.
Adam Sutch or Adam Sutch & Sutch Sounds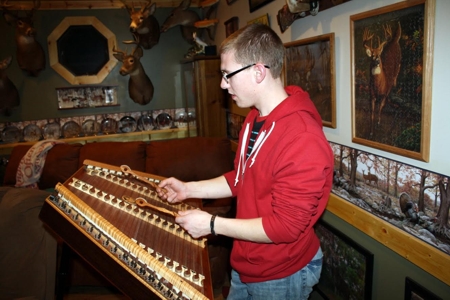 Adam Sutch will return this year from Charleroi, PA. Adam has been playing, performing, competing, and teaching the hammered dulcimer since the age of 11. Adam has been the Mid-eastern Regional Hammered Dulcimer Champion. In 2009, he placed second in the National Hammered Dulcimer competition at the Walnut Valley Festival in Winfield, Kansas and third in 2008 (and he was in the top five in 2010 and sixth in 2007). His group Sutch Sounds consists of his brother, Aaron, on the marimbula; his brother, Austin, on the bodhran; and his grandparents, Ron & Darlene Howes, on guitars (and sometimes solo or with just his grandfather). At this point we are not sure whether Adam will be solo or with members of Sutch Sounds for Dulci-More Festival 23. Their repertoire includes a wide variety of music including original, Irish, Celtic, traditional tunes, and much more. He and his band, Sutch Sounds, have recorded four CDs: one completely compiled of original songs, two CD's of Irish and traditional tunes, and one album of Christmas favorites. You can see Adam's upcoming events or learn more about him at http://adamsutch.tripod.com.
Sutch Sounds performed at Dulci-More Festivals 12, 14, 15, 17, 18, 19, & 20.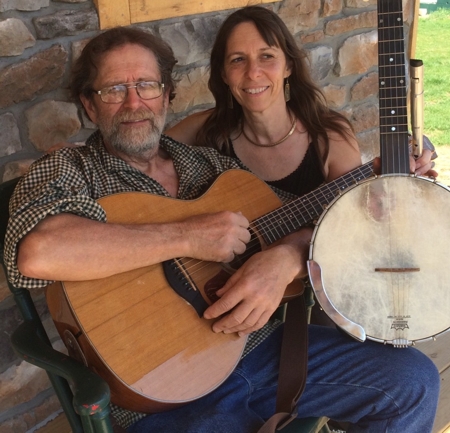 Upriver plays a mixture of traditional and original folk music in the Celtic and Appalachian traditions. Their vibrant music is woven together with stories and legends to deepen your understanding of its rich heritage.
Dan Moorefield is featured on guitars, piano, fiddle, and vocals. His musical roots go back to the County Waterford, Ireland. Dan mixes his research on the history of the Irish people and their music with his life experiences as a farmer, school teacher, father, and businessman. He brings both music and education to our shows. Dan has a Masters degree in education.
Teresa Morrison brings to the music a variety of instruments, which include the Irish whistle, alto recorder, banjo, mandolin, guitars, and vocal. Her family roots are deep in the Scots Irish heritage and she feels a soul connection with the music that has crossed the ocean, the Appalachian mountains, and the generations. Teresa teaches music at the Wayne Center for the Arts.
Olivia Walton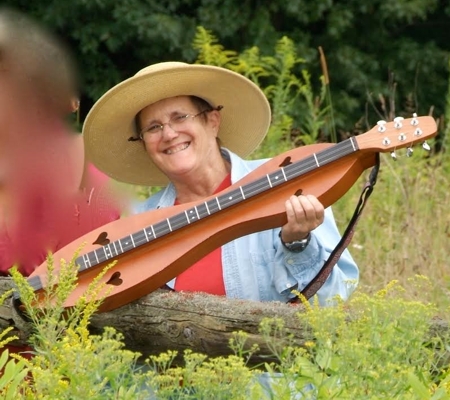 Olivia Walton has played music since childhood on accordion and guitar. She discovered the mountain dulcimer in 2007 at Wildwood Music in Roscoe Village, Ohio. She has gone to festivals all over the region. She has a CD out with Ruth Hulthen called Bountiful Folk. She belongs to several dulcimer clubs and teaches newcomers at the Black Squirrel club in Stow Ohio and Senior Strummers in Aurora Ohio. She has private students out of her home in Ravenna Ohio. Olivia expects to be joined for her mini-concert by members of Key of Z, a group of folks who regularly camp and play music together around the region. Although she has attended Dulci-More Festivals for years and performed with others in mini-concerts, this is her first time scheduled as a workshop presenter and mini-concert performer.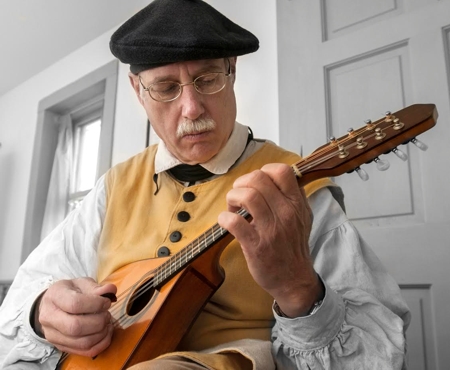 John Whitacre performs traditional music of the British Isles specializing in tunes popular in colonial America on violin, mandolin family instruments, mountain dulcimer, and guitar. He uses capos and a variety of tunings on mandolin, mandola, octave mandolin, mandocello, mountain dulcimer, and guitar to enhance the Celtic character of the tunes and because it's fun to explore those tunings. He played with the Bog Carrot in the 1990s, performing, among other places, at Burkhardt's Pub in Green and the Warren Celtic Heritage Fair, and he has played with assorted friends over the last few years. Now he is focusing on solo gigs as a historical musician and on recording. His first solo album, "The Rampant Mandolin," will be a collection of original tunes written in the style of 18th-century Scottish music.
He is a historian with a B.A. from Kent State, a writer, a calligrapher, and an avid reader on many subjects. He maintains a blog at http://rampantmandolin.blogspot.com/ and a Facebook page called The Rampant Mandolin. John has attended many Dulci-More Festivals, assisted Randy Clepper with workshops for Dulci-More Festival 14, and done a lot of parking lot jamming. John was with us for Dulci-More Festival 21 and has been back again for Dulci-More Festivals 22 and 23.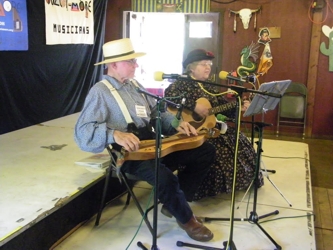 Alice Whitehill is a Dulci-More member from Hookstown, PA. She has been a part of all Dulci-More Festivals. Alice sings and plays dulcimers, autoharps, guitars, and more. She is often joined in performance by Earl Whitehill (her husband), Rachel Huff (her daughter), Deb or Kristi Boyd, or others. She also leads the Dulcimer Players of the Upper Ohio Valley. She and Earl have won a variety of competitions at Roscoe Village Dulcimer Days. Alice sells musical instruments and supplies as Stitches & Strings and is a vendor at this Dulci-More Festival.
Additional Workshops are likely by Jim Stone, Jim Miller, John Hockett, Dulci-More Member Bill Lawson, and members of DUH! (Dulci-More Ukulele Hangout) Becky Hawkins, Wayne Howard, and Jean Linton.
Thanks to Tom Ball for being the Emcee for the Mini-Concerts.
Tom Ball with Just Plain Folk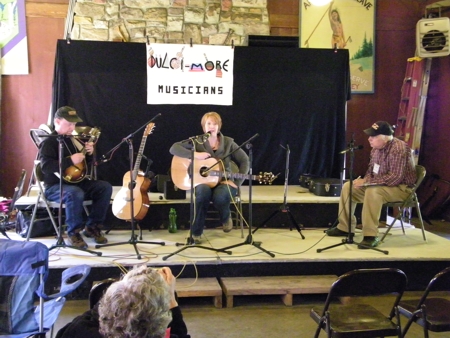 Wild Carrot with Tom Ball for Just Plain Folk at Dulci-More Festival 19
Special thanks go to Tom Ball of Just Plain Folk (previously a radio program and then a webcast at www.twistintomradio.com) for the support he has shown us by having Bill Schilling and other guests on the radio show to help promote Dulci-More Festival 6-21 as well as special Dulci-More events. The weekly show, which features recorded music, the Mountain Rose report, and live music from guests from the local area and beyond, with about 3 programs available at any time on the web. Starting with Dulci-More Festival 9, Just Plain Folk recorded a live interview for later broadcast as one of the workshops at the festival. Since Dulci-More Festival 10 they have done two different workshop interviews each year. Maureen Sellers even put out a CD with the material from her Just Plain Folk show. We had Tom as the emcee for the mini-concerts for Dulci-More Festival 22 and expect to have him back for Dulci-More Festival 23.
Performers & Performance Order Subject to Change as Needed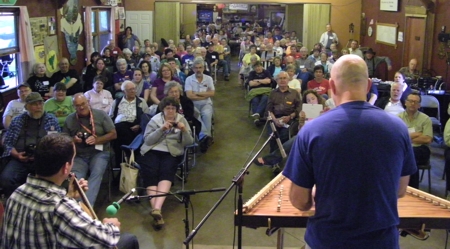 Mark Wade, Dan Landrum, & Audience at Dulci-More Festival 20
Festival Vendors (not all confirmed yet)
Alice Whitehill (Stitches & Strings)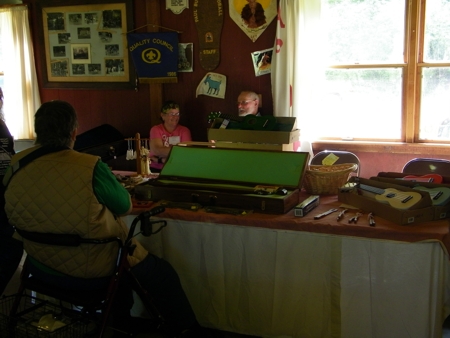 Alice Ann Whitehill will be back again for Dulci-More Festival 23 with stock from Stitches and Strings. Alice expects to have a variety of instructional, song, and tune books for different instruments. She will also have accessories including strings, stands, electronic tuners and tuning clips, picks, and more. Alice also has several instruments in the shop including lap dulcimers and Oscar Schmidt guitars and autoharps. Alice is a Dulci-More member and has been a part of all of our Dulci-More Festivals. Alice has regularly contributed prizes for our Name That Old Time (or Other) Tune Contest and will do so again this year.
Dulci-More Members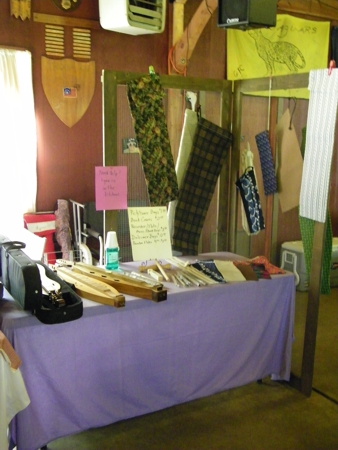 Several Dulci-More members are expected to have a variety of accessories and used instruments for sale.
Brett will have a variety of his own CDs and those he has recorded with Phyllis Woods Brown as well as books and musical accessories. He also vended for Dulci-More Festival 22.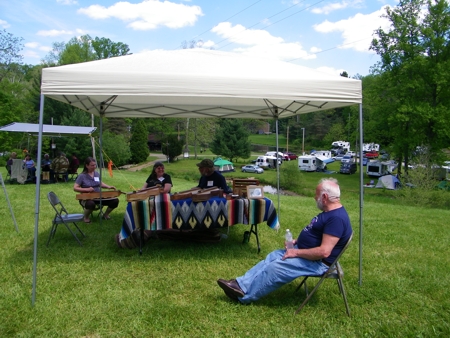 Paul Conrad is from Holmes County, Ohio. He started building mountain dulcimers for a while in the mid 70s, and he returned to building them in 2005. He mixes woods in visually stimulating patterns on some of his dulcimers to give them a unique look. He has taken his dulcimers to several festivals. This is Paul's ninth time at a Dulci-More Festival.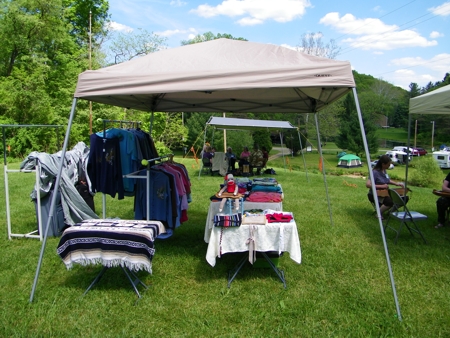 Marge Diamond will be back with Winsome Expressions including airbrushed music themed shirts and other items for sale. Look for her latest "Ultimate Totes" with music themes. Marge is based in Elyria and can be reached at mtmarge7@windstream.net.
---
Contact Bill Schilling by e-mail.
Return to Bill Schilling's Home Page.
Links to Other Home Pages Developed by Bill Schilling
Contact Information
Bill Schilling, Dulci-More Festival Director
984 Homewood Avenue
Salem, Ohio 44460-3816
234-564-3852
234-564-DULC