This information is now current for Dulci-More Festival 24 in 2018
Dulci-More Festival 24
Concert, Mini-Concert, Workshop Presenters & Vendors
Note: Clicking on most of the photos on this page will open them in a new window in a higher resolution more appropriate for use in press releases. However, we do not have higher resolution photos of all of the artists, but there should be something appropriate for most press releases here.
For Festival downloads, schedule, workshop grid, and registration, go to the main Dulci-More Festival page.
Link to Online Registration Page
(Online registration page will be taken offline around on Wednesday, May 23 to allow final preregistration information to be coordinated by the registrar)
Updated April 26, 2018
(Some Presenters Will Only Be at the Festival One Day As Indicated in the Schedule)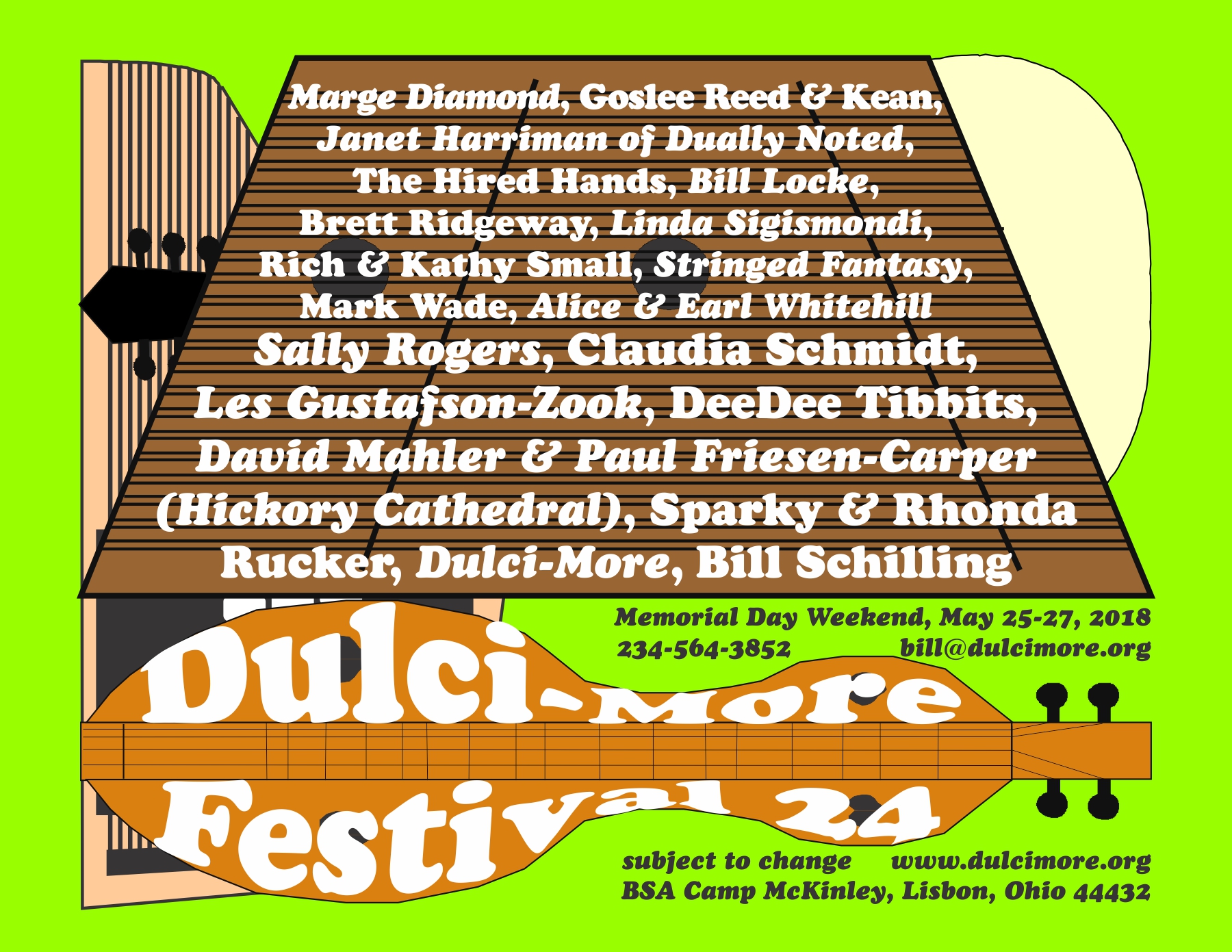 Concert, Mini-Concert, & Workshop Presenters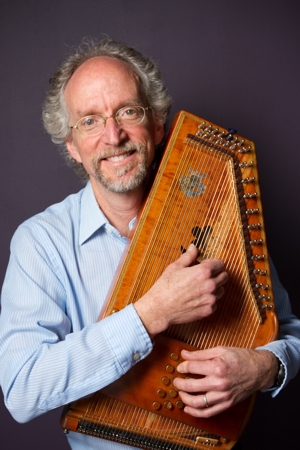 Les Gustafson-Zook, from Goshen, Indiana, is a popular autoharp instructor and performer, appearing at many festivals and music schools in the U. S. since 1990. Les won the 1989 National Autoharp Championship and the International Autoharp Championship at Winfield, KS in 2001. Les founded the Willamette Valley Autoharp Gathering with a group of his students in 1994. He has taught at Augusta Heritage Center, John C. Campbell Folk School, Kentucky Music Week, Mountain Laurel Autoharp Gathering, Walnut Valley Festival, Sore Fingers Summer School, and many other festivals across the U.S. In 2014 he was inducted into the Autoharp Hall of Fame. He is known for his clear and encouraging teaching style, his fast, clean picking of fiddle tunes, his energetic performance, and for his sensitive arrangements of hymns, waltzes, and Christmas carols.
Les has recorded six CDs, is a core member of a contradance band called Band 'o Goshen and often performs with his wife, Gwen. When not doing music, Les works for Mennonite Central Committee (mcc.org), an international relief, development and peacemaking organization, and volunteers with a non-profit bicycle shop called Chain Reaction Bicycle Project (crbp.org).
Les performed at Dulci-More Festivals 11 & 15.
Hickory Cathedral David Mahler & Paul Friesen-Carper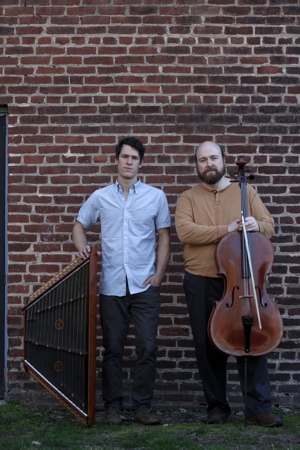 Hickory Cathedral is the chamber folk duo of David Mahler and Paul Friesen-Carper. They met in 2017 touring some of the best halls in China and the US as part of Silk Cedar, a Chinese-American folk-jazz fusion dulcimer band that paired 2004 American Hammered Dulcimer Champion, David Mahler, with world-renowned yangqin (chinese dulcimer) virtuoso, Liu Yuening. Working together they discovered a shared love of folk music and hatched the plan for Hickory Cathedral.
This new collaboration explores the unique combination of David's masterful hammered dulcimer playing and Paul's fiddle-influenced cello style – and occasionally draws on their talents as multi-instrumentalists. Their playing brings to life the fire and warmth of North American and Celtic traditional music with prowess, exuberance, and intimacy. The soul of Hickory Cathedral is building community through shared music-making and inspiring the imagination with virtuosity.
The duo plays concerts in a wide variety of venues and is available for festivals, workshops, weddings, schools, events, studio work, jams, and collaborations.
David Mahler, a Lynchburg, VA based composer and multi instrumentalist, began playing the hammered dulcimer at the age of ten. Four years later, he competed and won the title of National Champion (setting the record for the youngest contestant to ever win). David is quite versatile on the dulcimer playing a range of traditional Appalachian, European folk, Classical, as well as joining contemporary folk rock and pop bands for recording sessions and performances. Each of the CDs he has produced have within them refreshing and heart opening melodies which reveal different seasons he has had with the hammered dulcimer. They also have been vehicles for his talents as a composer. Recently, he released an instructional European music book for the hammered dulcimer, catering to all levels of players. Always, he remains open to ideas and opportunities that incorporate the hammered dulcimer into new avenues of music and the arts.
Paul Friesen-Carper is the Cantor at Trinity Lutheran Church in Richmond, Michigan where he shares his love of leading the worshipping assembly in song – from folk to baroque and from ancient latin to latin-american. He frequently leads assembly song at gatherings of the larger church. His compositions include liturgical settings, songs for choir and assembly as well as commissions from the ELCA Division for Worship and the Association of Lutheran Church Musicians. Paul performs as a guitarist, vocalist and multi-instrumentalist, and holds a BA in music (Valparaiso University) and a MA in theology (Lutheran School of Theology at Chicago).
David was previously with us for Dulci-More Festival 19.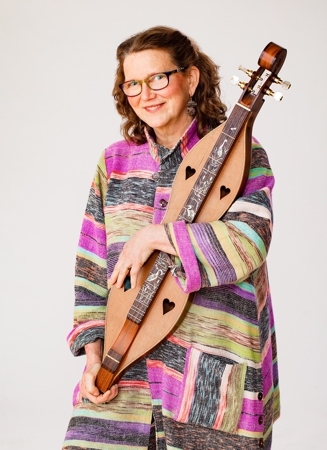 Sally Rogers began her career as a full-time touring musician in 1979, after encouragement from Stan Rogers, the legendary Canadian singer-songwriter.  That was followed by an invitation from Garrison Keillor to appear on A Prairie Home Companion. She appeared more than a dozen times on that show, which launched her performing career. Her travels have since taken her to Europe, China, Hungary and Poland, England and Scotland, and across the United States.
Sally started playing dulcimer in 1973 after seeing one being played at a festival in Switzerland. She met her life-long mentor, Jean Ritchie, in 1975, when the coffeehouse she helped run brought Jean to town. Her playing reflects the simplicity she admires in Jean's traditional style, while also using 4 equally spaced strings to create rich chordal accompaniments. She gives group and private dulcimer lessons.
Sally has released thirteen albums, not including several collaborative projects with other artists and with students. Her first album, The Unclaimed Pint, has stood the test of time and continues to be a big seller. Her most recently released albums have been with her singing partner, Claudia Schmidt. They celebrate over 35 years of performing together.
Although much of Rogers' time is spent as an artist-in- residence these days, she continues to perform in concerts as opportunities arise. Her gorgeous singing voice, boundless energy, and good humor are welcomed from coast to coast.
Sally was with us for Dulci-More Festival 16. Expect her to share part of her concert set with Claudia Schmidt.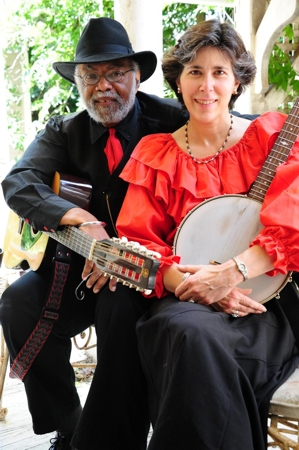 Sparky and Rhonda Rucker perform throughout the U.S. as well as overseas, singing songs and telling stories from the American folk tradition. Sparky Rucker has been performing over forty years and is internationally recognized as a leading folklorist, musician, historian, storyteller, and author. He accompanies himself with fingerstyle picking and bottleneck blues guitar, banjo, and spoons. Rhonda Rucker is a musician, children's author, storyteller, and songwriter. Her blues-style harmonica, piano, old-time banjo, and bones add musical versatility to their performances.
Sparky and Rhonda are sure to deliver an uplifting presentation of toe-tapping music spiced with humor, history, and tall tales. They take their audience on an educational and emotional journey that ranges from poignant stories of slavery and war to an amusing rendition of a Brer Rabbit tale or their witty commentaries on current events. Their music includes a variety of old-time blues, slave songs, Appalachian music, spirituals, ballads, work songs, Civil War music, railroad songs, and a few of their own original compositions.
Over forty years of performing, Sparky and Rhonda have performed at the Kennedy Center in Washington D.C. and the Smithsonian Folklife Festival as well as NPR's On Point, Prairie Home Companion, Mountain Stage, and Morning Edition. Their recording, Treasures & Tears, was nominated for a W.C. Handy Award, and their music is also included on the Grammy-nominated anthology, Singing Through the Hard Times.
The Ruckers have been featured tellers at the International Storytelling Center and Festival. Sparky is a natural storyteller, having grown up hearing his father, uncles, and other family members endlessly telling tales. Sparky and Rhonda each tell solo stories, but they also tell stories together (in tandem), always adding life and humor to the characters and tricksters in their Brer Rabbit tales, Jack tales, High John the Conqueror stories, preacher tales, and family stories.
Sparky and Rhonda weave their music into captivating stories that the history books don't always tell, and they share this knowledge in many schools, colleges, and libraries. Their educational programs span over three centuries of African-American history, including slavery, the Underground Railroad, the Civil War, the birth of blues music, and the civil rights movement. Each era is interspersed with stories and popular songs from the time period, celebrating the diversity of the nation's history. They are also available for author visits to schools and libraries.
While this is their first Dulci-More Festival, they performed for the Dulci-More Concert Series in December of 2017.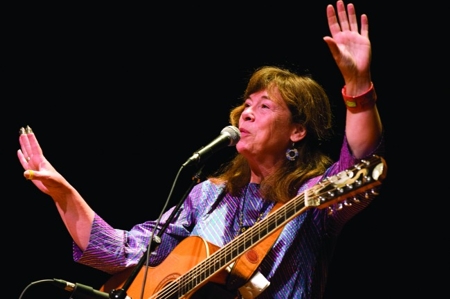 More than 4 decades as a touring professional have found Michigan native Claudia Schmidt traversing North America as well as Europe in venues ranging from intimate clubs to 4,000 seat theatres, and festival stages in front of 25,000 rapt listeners. She has recorded nineteen albums of mostly original songs, exploring folk, blues, and jazz idioms featuring her acclaimed 12-string guitar and mountain dulcimer playing.
For more than four decades Claudia Schmidt has been exploring the nuances of acoustic music with her voice, 12 string guitar, and mountain dulcimer with an exciting collection of original, traditional, and contemporary writing. From small clubs to large concert stages, her craft is at its height in live performance. She has been featured on PRI's A Prairie Home Companion, Mountain Stage, a television documentary on KTCA-TV in St. Paul called "I Sing Because I Can't Fly", and has written music for and acted in the musical "Bag Lady Tendencies" with Friends Mime Theater in Milwaukee and Frank Galati's production of "Good Person of Szechuan" at the Goodman Theater in Chicago, for which she won a Jefferson Award. All those elements of performing are brought to bear at a Schmidt performance as she mines the humor and poignancy of our lives and shapes it into a 'one-woman revitalization movement', as a journalist from Oakland, Ca. described her. The stage is her natural habitat, and every member of her audience is made to feel welcome and energized by her presentation.
Hers is a quirky and wonderful hodge-podge (her word!) of music, poetry, story, laughter. drama, and celebrating the moment. Work in clubs, theaters, festivals, TV, radio has added depth and dimension, and since she has always included her original work along with very personal versions of the work of others, what you get is a unique look at the world from someone who says what she sees with clarity, humor, and wonder. The San Francisco Bay Guardian said: Schmidt's shows are a lot like falling in love. You never know what's going to happen next, chances are it's going to be wonderful, every moment is burned into your memory and you know you'll never be the same again." More succinctly, Garrison Keillor said "when Claudia sings a song, it stays sung."
Claudia performed in September of 2017 for the Dulci-More Concert Series, but this is her first Dulci-More Festival. Expect her to share part of her concert set with Sally Rogers.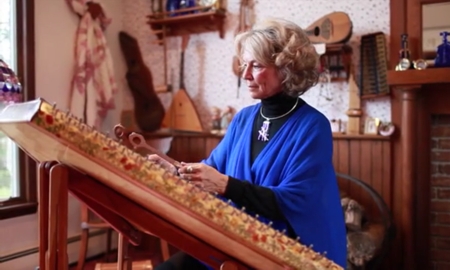 DeeDee travels the Midwest and beyond from her home in Caro, Michigan performing and teaching at various events and festivals. She specialized in the hammered dulcimer and whistle playing a mix of classic Celtic tunes and inspired original music.
Dee Dee has been playing, performing, and teaching the hammered dulcimer for over 30 years. She has 47 private students, performs at school assemblies and concerts, and has taught workshops in the U.S. and Canada. Dee Dee has taught and performed at the Spring Fling Hammered Dulcimer Rendezvous; Central Florida Dulcimer & Autoharp Festival in Mt. Dora; Gateway Dulcimer Music Festival; ODPC Funfest in Evart, Michigan; Midland (MI) Dulcimer Festival; Allegheny (PA) Dulcimer Festival; Buckeye Dulcimer Festival in Ashley, OH; Smoky Mountain Dulcimer Retreat in Tennessee; and Kentucky Music Week. Playing and helping others meet their potential is her passion!
This is her first Dulci-More Festival.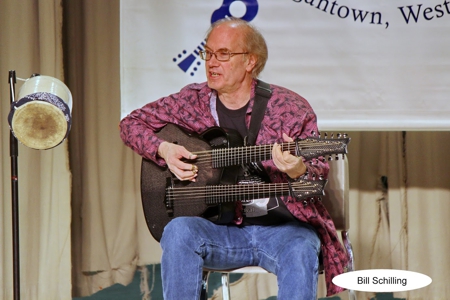 Bill Schilling is a high-energy folk-style singer and multi-instrumentalist who believes that this type of music should be inclusive. He is the founder and leader of Dulci-More and the Dulci-More Festival and a member of many other groups, which share or support the music. At Dulci-More Festivals, he has performed solo and as Bill Schilling with Carol Ellis; Bill Schilling, Linda Sigismondi, and Marge Diamond; Bill Schilling & Folks; Threes Co.; Whistler's Lane; and presented his Schilling's Slides, Songs, & Stories program. Bill has put together the music that Dulci-More uses and has it available in several volumes and formats: Dulci-More Public Domain Songbooks -- Volumes 1, 2, 3, Christmas Volume (all with numbers for lap dulcimer melody strings as well as music, chords, and lyrics), Autoharp Volume (with melody chord numbers in place of the dulcimer numbers), General Volume (with DAA Numbers) which is the full size version of the four smaller volumes plus much more material, Lyrics with Chords for those who prefer not to have the written music, but want to play along, and Lyrics Only for those who just want to sing along. The full size version is over 300 pages with over 300 songs. Bill has released a CD, Songs from Canal Days, with Linda Sigismondi and continues to threaten to release more recordings upon the world. Since 2005 with Dulci-More members Marcy and Dale Tudor, he has been the Music Coordinator and a regular instructor for Folk Music at Weatherbury Farm, the Tudor's award winning farm vacation bed and breakfast in Avella, PA. Bill has also been an instructor at John C. Campbell Folk School.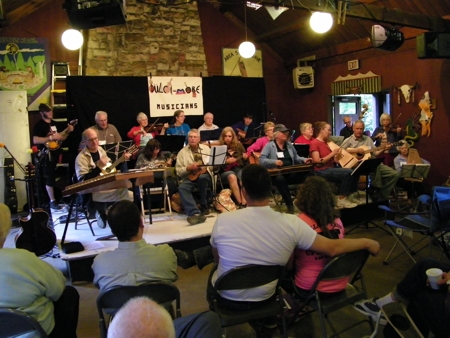 Dulci-More: Folk & Traditional Musicians is a club that started in January 1993, at the First United Methodist Church of Salem. The purposes of the club are to have fun with folk-style music and to share that music with others. The club meets at 7:00 pm on the first Tuesday and Third Tuesday (note: it was the third Wednesday until January, 2000) of each month just off the sanctuary in the Unity Classroom of the First United Methodist Church of Salem, 244 South Broadway, Salem, OH 44460. All levels of acoustic instrumentalists and singers are always welcome at the meetings to jam, to learn, to listen, or to perform. Call ahead if you are coming from far away since performances or special meetings may be scheduled a few times a year on regular meeting nights. Since October of 2014, Dulci-More also has DUH! Dulci-More Ukulele Hangout. DUH! meets on the second Tuesday at 7:00 PM and the fourth Tuesday at 2:00 PM at the First United Methodist Church of Salem. Playing all styles of ukes, they sing along on a wide variety of songs and styles. They also welcome all levels of players and singers, and they have loaner ukes available at meetings.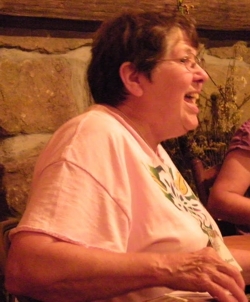 I, Marge Diamond began playing dulcimer twenty-nine years ago. Without any musical background, but with tons of enthusiasm, I passed through the beginner stage. Progress was slow and quite painful at times, but persistence began to pay off. By attending dulcimer workshops when ever possible and hanging out with other musicians I began to pick up some technique, learned to keep a fairly good beat, and began making a few fiddle tunes my own.
Learning to play was an amazing thing for me, but then there are the fantastic people I have met along with the tunes. I just would never have believed that adults could come together to share music and have so much fun. There is nothing to compare. For twenty-seven years I have been doing this, and it still feels new and fresh. I am still learning. There is love shared with the learning of the music.
Currently Marge plays with The Oberlin Dulcimer Group and Dulci-More. Marge has performed and taught Dulcimer workshops since 1987. She has been on hand teaching and performing at all of the Dulci-More festivals, at most of the Fort New Salem Festivals, at several of the Kent State Folk Festivals, and has been on hand for some of the COFF festivals. Since retirement in 2003 Marge has been pursuing her love of making art. With her business, Winsome Expressions, she makes airbrushed music themed shirts, "Ultimate Totes", and other items for sale. Marge has one recording, Beyond Cabbage. which has occasionally been available on CD.
Marge has been part of all of our Dulci-More Festivals.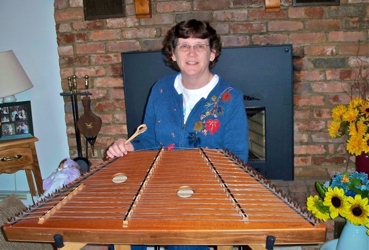 Janet Harriman is a Dulci-More member who moved from Alliance, OH to North Chili, NY several years ago. On her own as a Dulci-More member and as a member of Humours 'n Hammers, she has been presenting hammered dulcimer workshops at Dulci-More Festivals for several years. Beyond the hammered dulcimer, she has also regularly played flute with Dulci-More and with Humours 'n Hammers.
Janet has always loved music, and began her journey into its beauty and intricacies as a young child, as there was always music around her in the home. Sixth grade found her beginning flute in school, and from that she taught herself to play piano. High school and college furthered her skills. Since that time she has played piano for church singing, choirs, solos, and small groups. She has participated in community bands and orchestras, as well as small folk music groups. She has taught music in schools, and learned to play many instruments. It was in 2002 that she first heard the Hammered Dulcimer, and it was "Love at First Hammer!"
She currently writes and arranges music, as well as performs it, and teaches music, piano and other instrument lessons, music theory classes, and workshops at festivals. She has written a book of hymn arrangements for Hammered Dulcimer, as well as a book of original tunes. Her most intense endeavor has been writing a book on Music Theory for Hammered Dulcimer players. She also completed a book of Christmas tune arrangements, titled Sparkle. She currently plays in "Striking Strings" out of the Eastman Community Music School in Rochester, NY, (currently her home town) with Mitzie Collins as director. Janet also plays with her daughter, Jessica Austin, as Dually Noted. Janet's articles on hammered dulcimer have regularly appeared in Dulcimer Players News. She has presented workshops and done mini-concerts for Dulci-More Festivals 11-14, 16, 17, and 19-22. For the Dulci-More Festival 24 mini-concert, Janet is including her daughter, Jessica Austin, on stringed instruments. Together they are Dually Noted. Once again, Jan Douglass may accompany.
The Hired Hands or Allison Miller
The Hired Hands are a very local group for our festival (living about a mile from the festival site) and have attended some workshops at the festival in the past as well as a couple of Dulci-More meetings over the years. Their preference is for Scottish music (with some Irish and other Celtic music mixed in). Dulci-More Festival 15 was the first time that some of the group members gave workshops at a festival, and they were back for Dulci-More Festival 16, 17, 18 (featured in an evening concert that year), 19, 20, 21, and 22. They also played for the Dulci-More Concert series in December of 2012. They are returning for Dulci-More Festival 23. These sisters from the Miller family include:
Allison Miller began her musical career at age three with Suzuki piano lessons under the tutelage of Carol Wunderle and although she continued to play piano for the next thirteen years, she picked up the harp at age fourteen and began to explore the traditional music scene. She attended workshops at the Ohio Scottish Arts School and, after completing an undergraduate degree in biology, had the opportunity to pursue post-graduate studies in Clarsarch (Scottish small harp) and Scot's Song at the Royal Scottish Academy of Music and Drama in Glasgow, Scotland. Allison taught with the Comhaltas coinin Erin group in Scotland, has taught both privately and publicly in America, and has appeared in concert in Scotland, Canada, and at multiple venues in the States. She and Sairey play as a duo, "The Hired Hands,' and they released their first CD, Something, in the spring of 2009. She has her Doctorate in Physical Therapy and hopes to bring both good tunes and ergonomic playing techniques to the field. She has competed extensively and has been awarded the title of National Scottish Harp Champion of America after winning the 2012 National Scottish Harp Competition.
Sairey Miller has studied the Suzuki piano method under Mary Louise Foster for ten years, and discovered her love of traditional music when she began to play harp at age eight. She has taken workshops at the Ohio Scottish Arts School, at the 2007 Edinburgh International Harp Festival in Edinburgh, Scotland, and has had the privilege of studying under such diverse musicians as Sue Richards, Ann Heymann, and Sharon Knowles of the US, Wendy Steward, Catriona McKay, and William Jackson of Scotland, and Robin Huw Bowen of Wales. She has completed two Bachelor's Degrees in Biology and Philosophy and is currently pursuing Graduate School as a Physician Assistant. Sairey was awarded the title of National Scottish Harp Champion of America after winning the 2008 National Scottish Harp Competition.
Laura Miller has studied the Suzuki piano method under Mary Louis Foster since age six, and picked up the violin at age 10. She attended the Ohio Scottish Arts School and was duly converted to the realm of traditional music -- she now plays only Scottish, Irish, Quebecois, and Welsh fiddle tunes. Since 2005, she has studied under fiddle masters Andre Brunet of Quebec, Anna Wendy Stevenson and Mike Vass of Scotland, and Ed Pearlman of Maine, and she has competed at the Ohio Scottish Games, the Ligonier Highland Games in Pennsylvania, and also at the 2010 National Fiddle Competition in Virginia. She is currently playing with small folk groups and enjoying the college music scene where she is studying Liberal Arts at Wyoming Catholic College in Lander, Wyoming.
Micah Miller has studied the Suzuki piano method under Mary Louis Foster for the past nine years and picked up the Anglo concertina in 2005. With the concertina she is mainly self-taught, learning tunes by listening to CDs and playing with her sisters. In addition, however, she has had the chance to take workshops with brilliant concertina players such as Grainne Hambly, Caroline Keene, and Frank Edgley. The lighthearted tone of her concertina may be heard on several tracks on the family CD and she often joins her sisters onstage. She plays many local gigs and sessions, most recently being involved in a musical recording project for Christendom College in Front Royal, VA, where she is currently studying.
Maggie Miller began playing the piano at age 6 and found her niche in the traditional music scene when she picked up the tin whistle two years ago. She enjoys performing with the family band and has attended tin whistle workshops at the Celtic Roots Festival in Goderich, Ontario. Depending upon the tune, Maggie will pull out a multitude of smaller penny whistles, the Irish low whistle, piano, or percussion...so listen out for some amazing diversity of tones during the program!
Since they are coming from their current locations all around the country, we may not know how many of them will be with us until shortly before the festival.
Bill Locke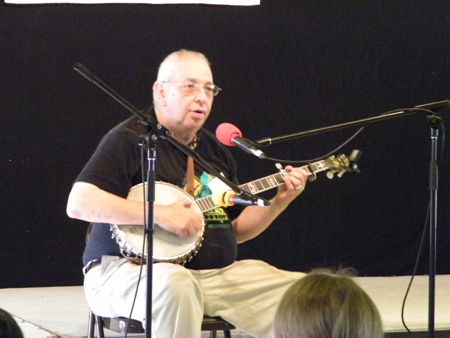 Bill Locke
For over fifty years Bill Locke has been entertaining audiences with his music which includes old-time dulcimer, guitar, and banjo, as well as ragtime guitar and spirituals. Bill grew up in the New England area and played in several clubs around Boston, New Hampshire, and Maine. Bill joined the United States Navy and served for 26 years. He then moved to the Pittsburgh area resuming his music and performing in South Western PA and in Wheeling WV. Recently Bill is most readily found at old-time and dulcimer festivals. He has played the open stage at Dulci-More for five years (once with his wife, Judy). Bill has a distinctive banjo style learned from people of West Virginia and others that have learned from them. Dulci-More Festival 21 was his first time giving a mini-concert and leading workshops for us, and he has been back again for Dulci-More Festivals 22 and 23.
Brett Ridgeway's philosophy is that "anyone can make music, regardless of age, musical ability or knowledge!" Brett teaches several workshops throughout the tri-state area and is a full-time musician/instructor. He currently teaches hammered dulcimer, mountain dulcimer, bluegrass banjo, clawhammer banjo, beginner acoustic guitar and mandolin. He currently has a lesson series available on YouTube and also teaches lessons via Skype and FaceTime. He has been a featured teacher and performer at the Roscoe Village "Dulcimer Days Festival" in Coshocton, Ohio and was one of the founders of the revamped "Coshocton Dulcimer Festival". He is a third year teacher at the Pocono Dulcimer Winterfest in Stroudsburg, PA and an advanced instructor at the Buckeye Dulcimer Festival in Ashley, Ohio. He will be teaching this fall at the Nutmeg Dulcimer Festival in Milford, Connecticut. He has also hosted several self-sponsored workshops. His most recent in Tampa, Florida with 37 attendees, one participant drove all the way from Texas for the three-hour workshop! Known from online teaching, one student drove from Miami, Florida to one of his workshops held in south-western Pennsylvania. Brett tours promoting traditional American music as "Homestead Creek". He has released a total of nine recordings; of which five are currently available. Additionally, an original composition written and performed by Brett Ridgeway is featured in the soundtrack of "The Path of the Wind", a 2010 movie which features Wilford Brimley. Brett was with us for Dulci-More Festival 21 and has been back again for Dulci-More Festivals 22 and 23.
Linda Sigismondi is a mountain dulcimer player and folksinger from Gallipolis and director of the Fort New Salem Dulcimer Festival. Her music includes traditional Appalachian tunes, traditional and contemporary folk music, and some original compositions that feature environmental themes. She has five mountain dulcimer books: Appalachian Ballads & Songs, Songs from Canal Days, Christmas Songs, Celtic Tunes, and Old Time and Fiddle Tunes. Linda has released a recording, Songs from Canal Days, with Bill Schilling and has companion recordings for her other books. She also plays guitar, Native American flute, Kratz zither, and MacArthur harp. Linda has taught workshops and performed at many folk music festivals in West Virginia, Ohio, and New York. Linda has played at Fort New Salem, West Virginia, for the Harvest and Christmas Festivals for many years. She is a Dulci-More member, attending a few activities a year even though she lives in Gallipolis. She has won many competitions at Roscoe Village Dulcimer Days and other competitions. Linda has been part of all of our Dulci-More Festivals.
Rich & Kathy Small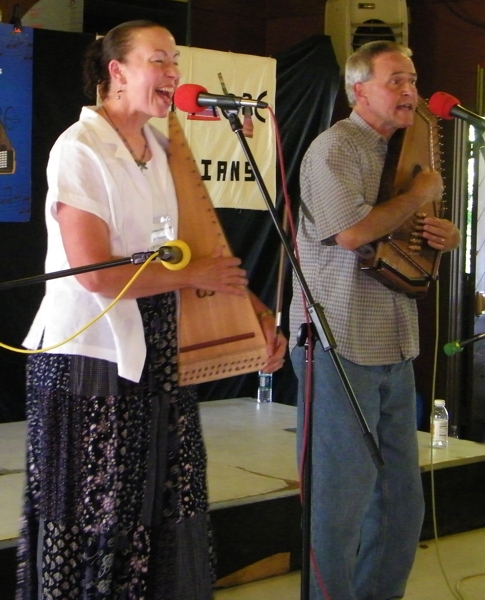 Rich and Kathy Small are folk singers and instrumentalists from Canton, Ohio. They have performed regionally at many festivals and events as a duo and as members of the Canton Folk Song Society and Dulci-More Folk & Traditional Musicians. Their harmony singing of Appalachian Mountain Ballads, Civil War Laments, Lively Audience Sing-a-longs, Original Compositions, and Folk Songs from all eras is accompanied by traditional old time instruments such as the Mountain Dulcimer, Bowed Psaltery, Autoharp, Guitar, Ukulele, Harmonica, and Tenor Banjo. Before re-locating to Canton, they were the performing hosts for The Old-Time Gospel Fest concert series at the Bluebird Amphitheater in Carrollton, Ohio and directed the award winning Arts of Appalachia Music Camp for children in Carroll County, Ohio.
Stringed Fantasy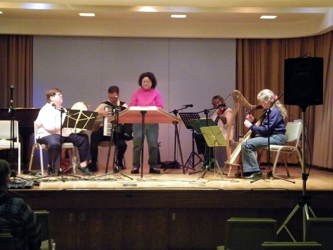 Stringed Fantasy returns from the Canton-Massillon and beyond area. Current members include Rosalind Wilson, Alma Houston, Greg Zuder, Nancy Koenig, Sue Wheeler, and (not expected at this year's festival) Linda Hill with hammered dulcimer, guitar, folk harp, violin, recorder, accordion, percussion, etc. They enjoy playing Celtic, folk, civil war era, and a variety of music. Several are Dulci-More members and some are members of the Canton Folk Song Society. Sue and Roz started giving workshops at Dulci-More Festival 2, and Stringed Fantasy has been with us for Dulci-More Festivals 3-11, 14, 15, 18, 19, 20, 21, & 22.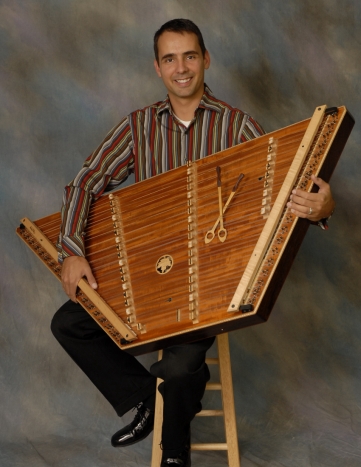 Mark Alan Wade performs throughout Europe, Asia and North America as a soloist on dulcimer and trumpet. His unique style is the result of his 25 years of traditional dulcimer playing blended with his formal classical training on trumpet. His most recent CD, Grass Roots, pulls together Grammy award-winning friends to showcase the virtuosity of the dulcimer. He brings Celtic and world music to life and loves to revitalize familiar classical pieces. A National Champion himself, 6 of his students have also won the National Contest. Mark also loves teaching beginners and has published 7 dulcimer books to help them get started right. Mark lives in Akron, OH with his wife and two sons. Visit MarkAlanWade.com or find him on Facebook for more!
One of Mark's first times teaching and performing at a festival was for Dulci-More Festival 2, and he has been back to perform and teach at Dulci-More Festivals 3, 4, 5, 6, 7, 10, 15, and 20.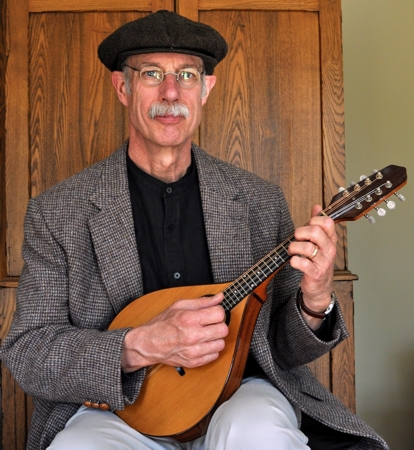 John Whitacre performs traditional music of the British Isles specializing in tunes popular in colonial America on violin, mandolin family instruments, mountain dulcimer, and guitar. He uses capos and a variety of tunings on mandolin, mandola, octave mandolin, mandocello, mountain dulcimer, and guitar to enhance the Celtic character of the tunes and because it's fun to explore those tunings. He played with the Bog Carrot in the 1990s, performing, among other places, at Burkhardt's Pub in Green and the Warren Celtic Heritage Fair, and he has played with assorted friends over the last few years. Now he is focusing on solo gigs as a historical musician and on recording. His first solo album, "The Rampant Mandolin," will be a collection of original tunes written in the style of 18th-century Scottish music.
He is a historian with a B.A. from Kent State, a writer, a calligrapher, and an avid reader on many subjects. He maintains a blog at http://rampantmandolin.blogspot.com/ and a Facebook page called The Rampant Mandolin. John has attended many Dulci-More Festivals, assisted Randy Clepper with workshops for Dulci-More Festival 14, and done a lot of parking lot jamming. John was with us for Dulci-More Festival 21 and has been back again for Dulci-More Festivals 22 and 23.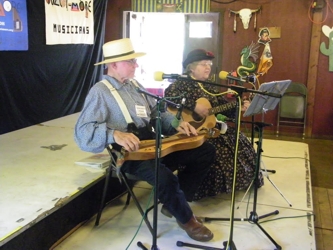 Alice Whitehill is a Dulci-More member from Hookstown, PA. She has been a part of all Dulci-More Festivals. Alice sings and plays dulcimers, autoharps, guitars, and more. She is often joined in performance by Earl Whitehill (her husband), Eric Huff (her son, expected at this year's festival), Rachel Huff (her daughter), Deb or Kristi Boyd, or others. She also leads the Dulcimer Players of the Upper Ohio Valley. She and Earl have won a variety of competitions at Roscoe Village Dulcimer Days. Alice sells musical instruments and supplies as Stitches & Strings and is a vendor at this Dulci-More Festival.
Additional Workshops are planned by Jim Stone, Jim Miller, John Hockett, and members of DUH! (Dulci-More Ukulele Hangout) Becky Hawkins, Jean Linton, Bonnie Lutz, and maybe others.
Unkle John Hockett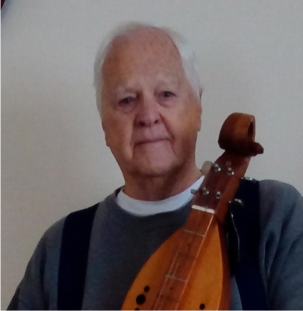 'Unk' is really John Hockett, 91 year old retired oceanographer/college professor. 'John has been a fan of folk music for 60 years; a custom builder of dulcimers; he stopped taking orders after selling #1000. He now has tabbed 321 pieces for dulcimer.
'Unk' presents concerts of dulcimer music and stories very suitable to older folk since the music and tales reflect earlier days. The tales he tells are often drawn from his father's Virginia hills boyhood, most are true.
Thanks to Tom Ball for being the Emcee for the Mini-Concerts.
Tom Ball with Just Plain Folk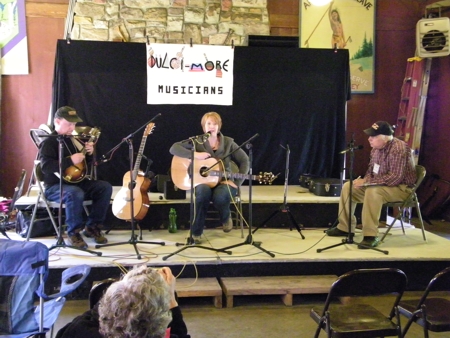 Wild Carrot with Tom Ball for Just Plain Folk at Dulci-More Festival 19
Special thanks go to Tom Ball of Just Plain Folk (previously a radio program and then a webcast at www.twistintomradio.com) for the support he has shown us by having Bill Schilling and other guests on the radio show to help promote Dulci-More Festival 6-21 as well as special Dulci-More events. The weekly show, which features recorded music, the Mountain Rose report, and live music from guests from the local area and beyond, with about 3 programs available at any time on the web. Starting with Dulci-More Festival 9, Just Plain Folk recorded a live interview for later broadcast as one of the workshops at the festival. Since Dulci-More Festival 10 they have done two different workshop interviews each year. Maureen Sellers even put out a CD with the material from her Just Plain Folk show. We had Tom as the emcee for the mini-concerts for Dulci-More Festival 22 and expect to have him back for Dulci-More Festival 23.
Performers & Performance Order Subject to Change as Needed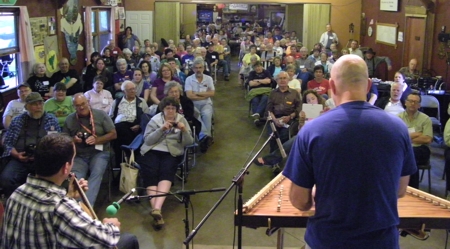 Mark Wade, Dan Landrum, & Audience at Dulci-More Festival 20
Festival Vendors (not all confirmed yet)
Alice Whitehill (Stitches & Strings)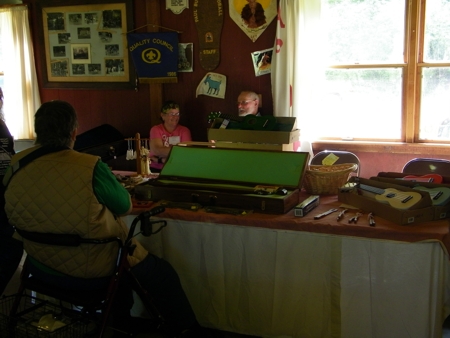 Alice Ann Whitehill will be back again for Dulci-More Festival 24 with stock from Stitches and Strings. Alice expects to have a variety of instructional, song, and tune books for different instruments. She will also have accessories including strings, stands, electronic tuners and tuning clips, picks, and more. Alice also has several instruments in the shop including lap dulcimers and Oscar Schmidt guitars and autoharps and cigar box guitars made by her son, Eric Huff who will also be with her. Alice is a Dulci-More member and has been a part of all of our Dulci-More Festivals. Alice has regularly contributed prizes for our Name That Old Time (or Other) Tune Contest and will do so again this year.
Dulci-More Members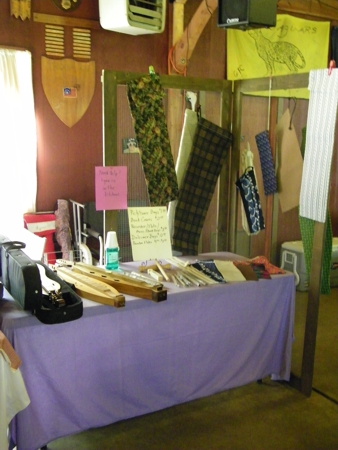 Several Dulci-More members are expected to have a variety of accessories and used instruments for sale.
Brett will have a variety of his own CDs and those he has recorded with Phyllis Woods Brown as well as books and musical accessories. He also vended for Dulci-More Festival 22 & 23.
Unkle John
Unkle John Hockett will have some music and accessories available at the festival.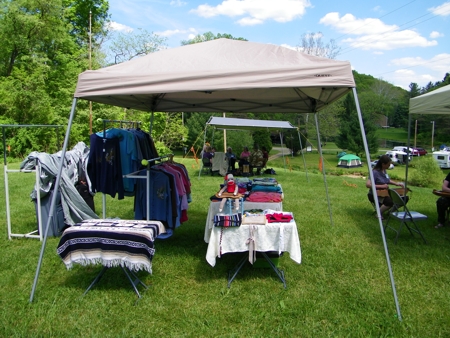 Marge Diamond will be back with Winsome Expressions including airbrushed music themed shirts and other items for sale. Look for her latest "Ultimate Totes" with music themes. Marge is based in Elyria and can be reached at mtmarge7@windstream.net.
---
Contact Bill Schilling by e-mail.
Return to Bill Schilling's Home Page.
Links to Other Home Pages Developed by Bill Schilling
Contact Information
Bill Schilling, Dulci-More Festival Director
984 Homewood Avenue
Salem, Ohio 44460-3816
234-564-3852
234-564-DULC