Dulci-More Festival 22 Workshop Descriptions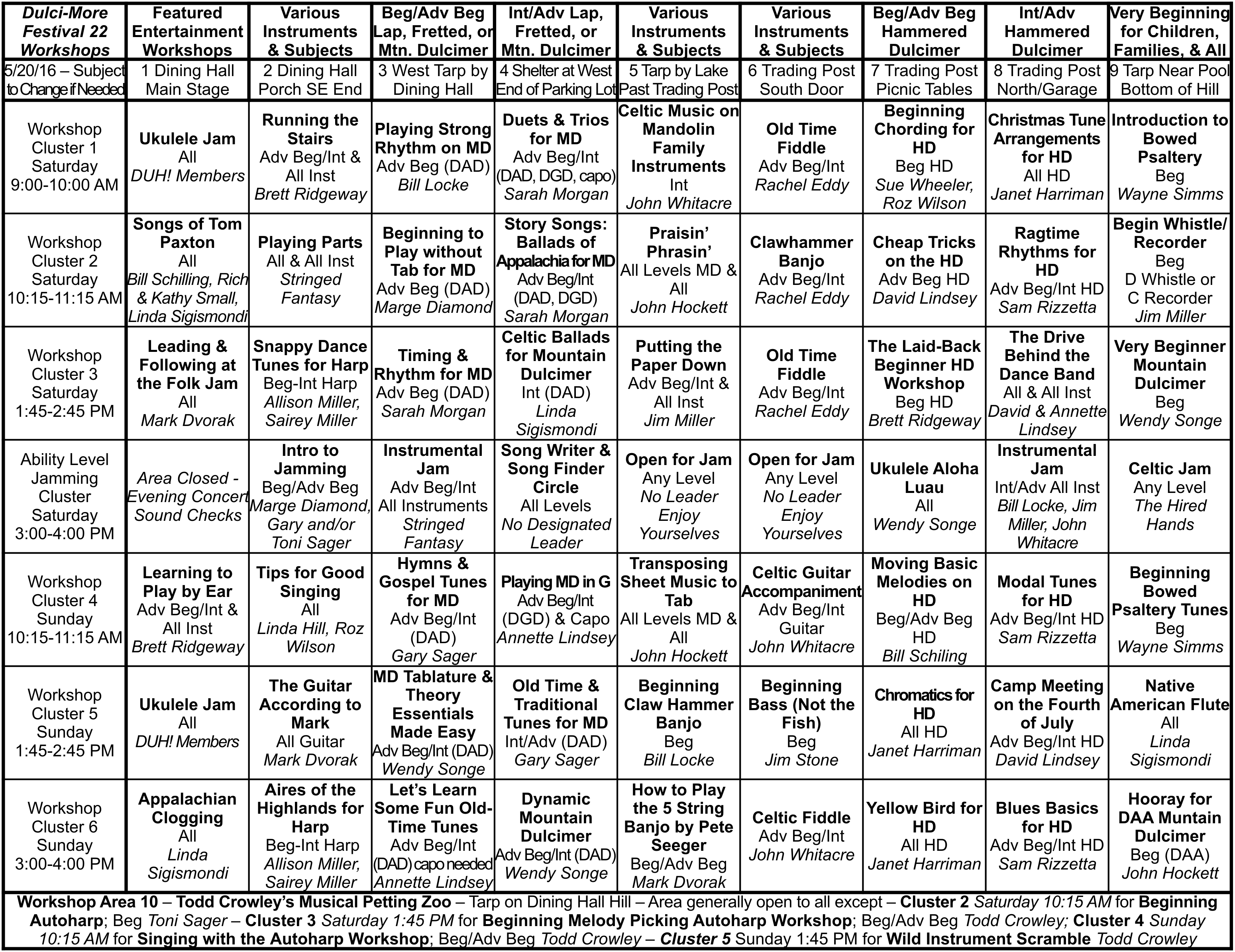 Workshop Descriptions
The middle section of this program shows the workshop grid. Use these descriptions to help find the workshops that will work best for you. Anyone can listen in on any workshops. A few workshops will have instruments for you to try out. No instruments are required for many of the workshops. Some of the workshops on the Dining Hall Stage are more for entertainment than for participation.
Saturday Workshops & Events
Cluster 1
1] Ukulele Jam
DUH! Dulci-More Ukulele Hangout members will lead and showcase many tunes from beginner level ones in C to more complicated ones (projecting lyrics and chords). Something for everyone, several loaner ukes available.
2] Running the Stairs
In this workshop, Brett teaches all instruments, the same tune(s) at the same time, with no music notation or tab and the tune is memorized and "visualized" by the end of the workshop! The method will not only help you learn new tunes quickly, but memorize them as well! This workshop teaches exactly how music is, not what is written down on a piece of paper.
3] Playing Strong Rhythm on MD
Bill will cover rhythmic dulcimer styles with variation, which can enhance the overall sounds of the instrument. This will include adding structure to the strum and cross picking using some common and well known tunes for this so the focus can be on the right hand.
4] Advanced Duets & Trios for MD
Learn two and three part arrangements of classical and Celtic pieces, upbeat fiddle tunes, and mellow hymns with Sarah. Good for duets/trios, but these arrangements will also work for larger groups. DAD, DGD. Bring a capo.
5] Celtic Music on Mandolin Family Instruments
Students learn how to use techniques such as drones, picking, and ornaments to create a Celtic sound. This can include an emphasis on the music of Turlough O'Carolan and the 18th century. John will work with mandolins, mandolas, and octave mandolins.
6] Old Time Fiddle
Rachel will use an old time tune to demonstrate specific techniques for bowing and play and discuss practice techniques to  improve musical ability.
7] Beginning Chording for HD
Sue & Roz will help you learn about root chords and playing in various time signatures to make interesting simple chord or arpeggio backups.
8] Christmas Tune Arrangements for HD
Walk away with more than a handful of arrangements (in various playing levels) to learn before Christmas! Some Hammered Dulcimer embellishments and tips to enhance your playing will also be shared by Janet.
9] Introduction to Bowed Psaltery
Wayne will introduce the psaltery from a builder's point of view, discussing types of bows, horsehair, and playing techniques. All will play a simple tune. Loaners available.
Cluster 2
1] Songs of Tom Paxton
The group will share some of the songs written by Tom Paxton. whose songs have been covered by many others over the years. Come prepared to sing and play along on old favorites and less familiar Paxton songs (handouts provided), or lead one with the group.
2] Playing Parts
Members of Stringed Fantasy will share what they do, playing melody, harmony, and drone lines, using sheet music, written in multiple parts.
3] Beginning to Play without Tab for MD
Marge will help those who are paper-trained take the first steps to freeing themselves from the tab and sheet music and being able to just play.
4] Story Songs: Ballads of Appalachia for MD
Traditional Appalachian and old time music is very unique in the fact that the music tells stories; stories about real people and real struggles they faced. In this workshop, Sarah will teach several ballads and story songs from the Appalachia area; an area rich in music and stories that are still relevant today. DAD and DGD.
5] Praisin' Phrasin'
John will help you move from mechanical rhythm to phrasing to making your own style in songs. Simplifying songs through passing notes, cross-string playing and chord choice. He works mostly with mountain dulcimer, but will have ideas for all.
6] Clawhammer Banjo
Rachel will use an old time tune to demonstrate specific techniques for playing clawhammer banjo and discuss practice techniques to  improve musical ability.
7] Cheap Tricks on the HD
David will demonstrate what he does to dress up a tune, especially the rhythms that make a tune bouncy. This will be a demonstration on this technique that will be used in David's other workshops.
8] Ragtime Rhythms for HD
Sam will introduce to syncopation, the essential ingredient of ragtime. It also adds spice to many other types of music. He has some fun tunes that give us any easy way to learn it, and you can use it to jazz up your playing! The dulcimer really makes ragtime sparkle. Learn how to get a handle, or a hammer, on it.
9] Begin Whistle/Recorder
Jim will help you learn basics of holding, blowing, fingering, and playing some simple tunes.
10] Beginning Autoharp
Toni will work on autoharp basics such as finding and playing chords, strumming patterns, and playing by ear. A few autoharps are available for loan.
Cluster 3
1] Leading and Following at the Folk Jam
A hands on workshop with Jammaster Mark. Bring your instruments and be ready to join in! Leaders get ideas of types of songs to lead, playing without print to energize, singing and playing so others follow, and varying the program. Followers learn to watch and listen for chord changes, from beginners with a few chords to others adding runs, fills, harmonies, and even leads.
2] Snappy Dance Tunes for Harp
Allison and Sairey will include some great dance tunes and ideas for playing them with a snappy feel. With music taught by ear, sheet music is provided after the workshop.
3] Timing & Rhythm for MD
Come for a thorough survey of timing and rhythm, as it specifically applies to the mountain dulcimer. Sarah will cover playing in timing signatures other than 4/4, how to play syncopated and dotted rhythms, how to strum with fluidity, and how to bring more rhythmic drive to your music. Mostly DAD
4] Celtic Ballads for MD
This is a repertoire-building workshop for intermediate dulcimer players. Participants will be taught several songs from Ireland, Scotland and Wales including Bard of Armagh, Mingulay Boat Song, Mairi's Wedding, and Balinderry.
5] Putting the Paper Down
When using sheet music or tab, it's easy to get locked into one version of a tune. Your tunebook grows and grows. Jim will have music and tab for some tunes and will work through some techniques for tune learning. You will find as you learn a tune it becomes easier to play in a jam with other versions of the same tune focusing more on playing your instrument and making music.
6] Old Time Fiddle
Rachel will use an old time tune to demonstrate specific techniques for bowing and play and discuss practice techniques to  improve musical ability.
7] The Laid-Back Beginner HD Workshop
Brett will help you get started on the hammered dulcimer and without stress will go over the things you really want to know as you get started.
8] The Drive Behind the Dance Band
Let David and Annette show you tricks and techniques that make playing for a dance successful and fun. Annette will demonstrate how the backup piano drives the dancers and controls the pace. David will use his hammered dulcimer to demonstrate how the liveliness of the dance is created by his techniques. Bring your instruments (all are welcome) and play songs to practice creating a lively, energetic dance band.
9] Very Beginning Mountain Dulcimer
Wendy will start from the very beginning and covering all of the basics – how to hold it, tune it, play it, care for it, right hand strumming, finger picking, left hand techniques, chords, and fretting. Loaners available.
10] Beginning Melody Picking Autoharp
Todd will work with you on the basics of picking melodies on the autoharp with loaners available.
Ability Level Jamming Workshops Cluster
If one doesn't work, try another. Join the fun!
2] Intro to Jamming
Marge and Gary and/or Toni will lead this jam for all instruments at a slow pace with easy tunes to help people get used to something many find scary, but is really fun - playing well with others.
3] Advanced Beginner/Intermediate Jam
Stringed Fantasy will lead some tunes and give you a chance to lead others of all kinds in a lightly structured jam for those used to playing together.
4] Song Writer & Song Finder Circle
Join others who write their own songs or find interesting songs to sing and share songs and techniques about how you do what you do. Share together nicely with no leaders assigned.
5] Open for Jam
No leaders assigned – just a location to jam for any level.
6] Open for Jam
No leaders assigned – just a location to jam for any level.
7] Ukulele Aloha Luau
Bring your ukulele for a little island fun! We will be working on chords, strum patterns, playing techniques, reading tablature, playing some of our favorite tunes, and more!
8] Intermediate/Advanced Jam
Bill, Jim, and John will lead some tunes and give you a chance to lead others of all kinds in a lightly structured jam for those used to playing together. The leaders play different styles, so it should be great hearing how everyone gets along.
9] Celtic Jam
Join the Hired Hands for an all-level Celtic jam.
1] Name that Old-Time (or Other) Tune
This version of a slick television game show is for the enjoyment of all after a full day of workshops. Get in on the fun and prizes from Alice as Linda and Marge again supply the tunes and Bill hosts.
1] Open Stage/Clubs Open Stage
Sign up at the registration area to let our festival hear some of your unique sounds. All acoustic instruments and styles are welcome.
Sunday Workshops & Events
1] Hymn/Gospel/Spiritual Sing
Join a group with your instruments or just your voice to share many favorites. Lyric sheets for many old favorites are there, but others may also be sung.
Cluster 4
1] Learning to Play by Ear
Free yourself and your dependency of reading music or tab to learn a tune! Brett uses traditional Celtic techniques, to help virtually anyone learn to play any instrument by ear! This is a hands-on workshop for all instruments and will help you to learn and understand your instrument from the inside out!
2] Tips for Good Singing
Linda and Roz will help you enjoy singing more with improved breathing, pronunciation, listening, and harmony.
3] Hymns & Gospel Tunes for MD
In this repertoire based workshop, Gary will share with you his style for playing some hymns and gospel tunes.
4] Playing MD in G
Tired of playing in D? By changing one string Annette will show you how to play songs in the key of G. We will also work with the capo.
5] Transposing Sheet Music to Tab
John will show how to find the keynote of sheet music and use a 'paper computer' to identify the intervals needed to make a proper transposition. Designed for mountain dulcimer tab, but the ideas can work for others.
6] Celtic Guitar Accompaniment
Using strumming patterns, selective string playing, bass lines, partial chords, varying chord voicings, and chord substitution John will show you how to create a Celtic sound and to add variety. 
7] Moving Basic Melodies on HD
Bill will help you easily take melodies to different parts of your HD using basic patterns.
8] Modal Tunes for HD
The basic do-re-mi... notes can be used to play in haunting scales other than the familiar major scale, and the dulcimer makes this easy. Such scales are called "modes", and some wonderful tunes are modal. In the haunting mixolydian mode, a scale like the major scale has the 7th note of the scale flatted. If this sounds like Greek, not to worry. All will be explained by Sam.
9] Beginner Bowed Psaltery Tunes
Learn to play a few tunes in C and D with Wayne.
10] Singing with the Autoharp
Todd will work with you on the basics of singing with the autoharp with loaners available.
Cluster 5
1] Ukelele Jam
See Cluster 1 Area 1 for description.
2] The Guitar According to Mark
Master folk and blues guitarist and Old Town School of Folk Music instructor, Mark shares his very practical approach to understanding the guitar fret board. He will also demonstrates several simple techniques to develop a catalogue of picking and strumming styles. Students will learn to identify partial chord shapes up the neck, to use chord tones, to create a solid rhythmic figure, to keep a rock-steady tempo, and to explore the basics of improvisation.
3] MD Tablature & Theory Essentials Made Easy
Reading tablature and learning music theory are often begrudged essentials of musicianship. However, this class aims to demystify both in a fun and effective hour of hands-on-instrument experience, pencil and paper exercises, and group activities to give you more confidence and know-how to pick up any new piece of music and begin playing, enhance songwriting abilities, improve ensemble and sight-reading skills, and more with Wendy!
4] Old Time & Traditional Tunes for MD
These are the songs that most people associate with the mountain dulcimer. Learn some with Gary.
5] Beginning Clawhammer Banjo
This is not bluegrass, it is all done with a downward motion of the right hand with easy fingering on the banjo neck. Just bring a plain old fashion banjo with five strings. Try a simple tune or two with Bill, but most effort will be to get the strum right using the G banjo tuning.
6] Beginning Bass (Not the Fish)
Bring a bass if you have one. This is an introduction, but some experience with an instrument, like guitar, would be helpful. Applies to bass guitar or upright bass, but use the lowest strings on a guitar for the workshop.
7] Chromatics for HD
Janet will give a few really fun tunes to help you find, and know how to best use, those chromatic notes on your Hammered Dulcimer.
8] Camp Meeting on the Fourth of July
David will teach a song with embellishments to help make the song fun and bouncy. A great old-time tune to add to your repertoire.
9] Native American Flute
Linda will tell a legend of the Native American flute and demonstrate how to play the instrument for traditional and western music. A few flutes will be available for participants to try or purchase. If you have your own flute, bring it along.
10] Wild Instrument Scramble
Join Todd for the fun of his wild instrument scramble.
Cluster 6
1] Appalachian Clogging
Clogging is a dance style traditional to the Appalachian Mountains. In this beginning workshop, participants will be shown how to do several clogging steps. The steps will then be used in a simple dance routine.
2] Aires of the Highlands for Harp
Allison and Sairey will teach some Highland tunes. With music taught by ear, sheet music is provided after the workshop.
3] Let's Learn Some Old-Time Tunes
Annette will have tab for several of the old-time tunes their band loves to play. Bring a capo.
4] Dynamic Mountain Dulcimer
The mountain dulcimer holds the key to a variety of unique, colorful, and expressive voices. Bring them out in your music with a focus on touch & technique, combined with terms & symbols for on-score dynamic notation. Add variety to your own playing style and put it into practice with Wendy's dynamic tune to take home!
5] How to Play the 5 String Banjo by Pete Seeger
The material Mark presents is extracted from the classic Seeger book and recording. Students will learn the parts of their banjo, how to tune it to C tuning and open G. They will learn the fingerings to the chords C, F, G, and D7 and be introduced to three different ways Seeger picked the strings to accompany any number of different kinds of songs. Up-picking, frailing, the lullaby strum, whamming, and blues are all part of the mix.
6] Celtic Fiddle
John shows traditional styles such as drones, bowing, and ornaments, used to transform the violin and printed music to traditional fiddling. This can include features of 18th-century Scottish and English music.
7] Yellow Bird for HD
Learn the melody of this lovely and rhythmic tune, as well as two other parts, so you can play the song in trio form. (These parts are also put into one solo arrangement, so you could play it alone and sound great!)
8] Blues Basics for HD
Blues intervals and how to play them on the dulcimer with Sam. Learn the blue notes and a blues tune plus tricks and licks. This is the most fun you can have with hammers in your hands! And it is an easy introduction to using chromatic notes.
9] Hooray for DAA Mountain Dulcimer
Learn from John basic chord patterns that make this the quickest way to play 3 string chords. Go from one string to two then three string chords which have the same finger pattern up and down the fretboard. Play melody across the strings. Play along with DAD players.
3] Non-Denominational Worship Service
Doug George, pastor of the First United Methodist Church of Salem, will lead a short service and share a message that should be meaningful for all.
1] Open Stage/Clubs Open Stage
See Saturday Open Stage for description.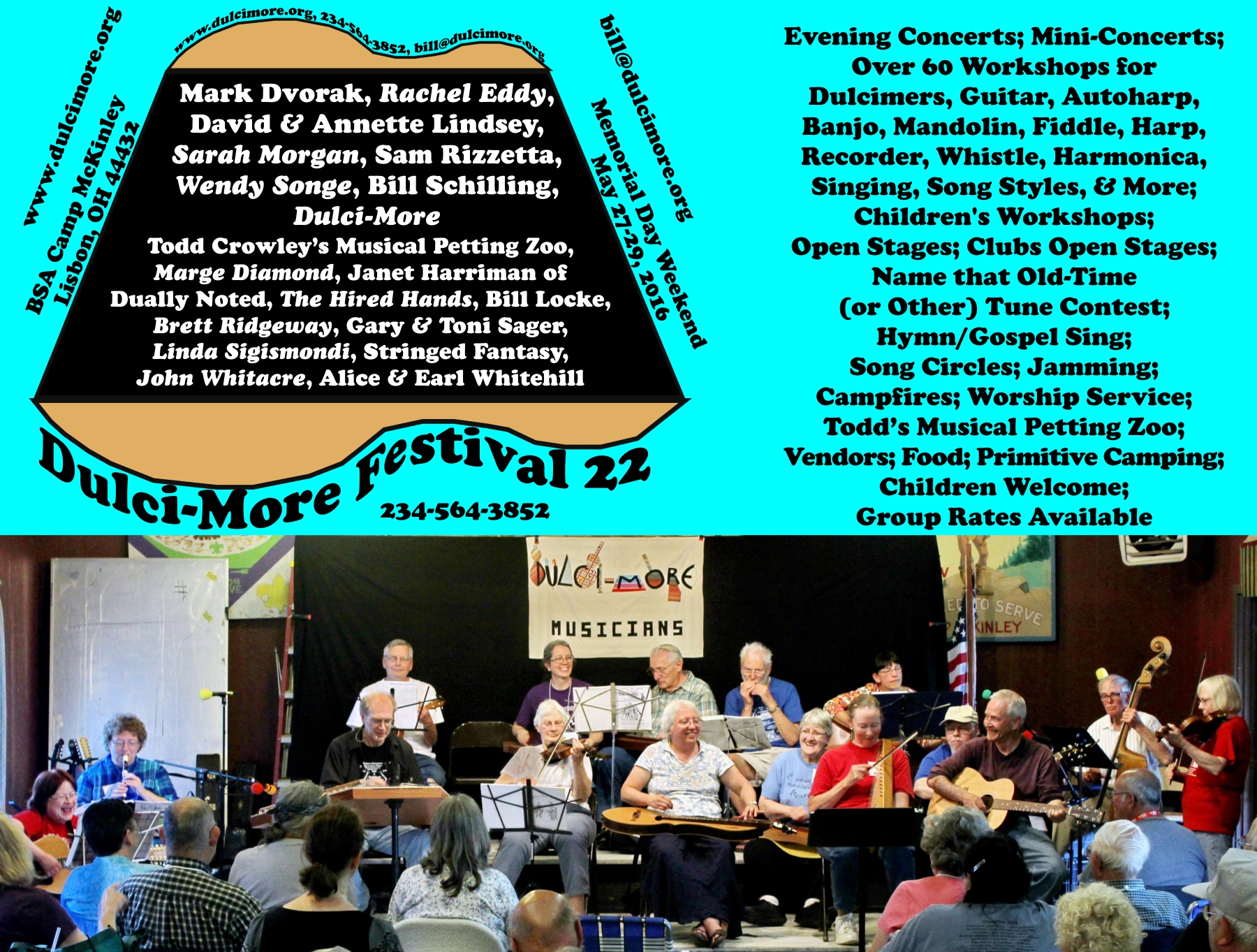 Contact Bill Schilling by e-mail.
Return to Bill Schilling's Home Page.
Links to Other Home Pages Developed by Bill Schilling
Contact Information
Bill Schilling, Dulci-More Festival Director
984 Homewood Avenue
Salem, Ohio 44460-3816
234-564-3852
234-564-DULC